Do you need dock seals or shelters? Part 1: Seals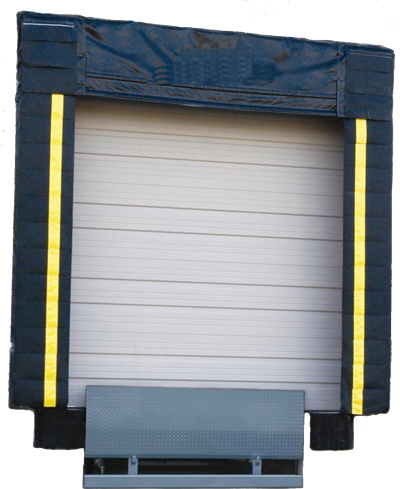 What are the primary applications for dock seals vs shelters? What configurations are available for both options?

In this two part series, we'll help you discover the best configuration for your facility.
The Benefits of Sealing
Dock seals and shelters serve similar purposes: they both help maintain a controlled atmosphere on your loading dock and help you protect product as it moves in and out of your facility. In other words, they both perform the same functions, just in slightly different ways.
So, why do you need to seal your dock? The main benefits are:
Energy savings: Dock seals and shelters can quickly pay for themselves through reduced heating and cooling costs within your facility.
Safety: wet concrete can be slippery and dangerous. Protecting your dock area from wet weather makes your dock a much safer place.
Comfort: nobody likes to work in extreme temperatures, rain or snow.Sealing your doors increases worker comfort, morale and productivity.
Freight protection: Seals protect your freight against harmful weather, and minimize the entry of rodents and other vermin.
Security: Seals help prevent unauthorized entry to your facility.
Temporary storage: docked trailers can become secure, climate controlled extensions of your facility.
Seals vs Shelters
So what's the difference between a dock seal and a dock shelter? Seals are made from compression foam covered with durable fabric. They're mounted around the perimeter of your dock doors, and they form a tight seal when a truck backs up to the door.
Shelters, on the other hand, consist of a frame that surrounds your dock door with curtains mounted to that frame. When a truck backs in, the curtains surround the trailer entry and form a seal.
Different Types of Dock Seals
Dock seals are generally manufactured as fabric covered foam panels that mount outside of your dock doors. The foam compresses when a trailer is backed up, forming a tight seal that keeps the weather outside. Seals are usually applied to smaller door openings, and they can achieve up to 90% efficiency for controlling air flow on your dock.
Fixed Head Dock Seal: This variety of dock seal uses a foam filled side and head pad. It is one of the most prevalent and effective dock seals when you have uniform truck heights and standard dock parameters.
Head Curtain Dock Seal: This category of dock seal is used when you have high variability in trailer heights and different door heights at your facility. It uses foam filled side pads. It's typical for the seal to have either a stationary or adjustable fabric head curtain sized for specific trailer types. Optional foam filled curtains can better seal the trailer and provide increased energy efficiency.
Adjustable Head Pad: Once very common, this type of seal has declined in popularity because the moving parts make it hard to maintain. Functionally similar to the "Head Curtain" type of configuration, this seal is ideal for variable trailer heights and door sizes. Like the "Fixed Head" dock seal it uses a foam pad making it very energy efficient.
L-Shaped Dock Seal: As the name suggests, this seal has "L" shaped side pads. The shape of the seal and the increased protrusion make it well suited for wider door openings. The shape and protrusion are engineered to seal the sides of the trailer rather than the back. This allows wider and improved access to the back of the trailer. This type of seal can have either a "fixed head" or "curtain" header.
Inflatable Seal: The inflatable seal uses a blower to inflate once a truck is backed up to the dock door. These types of seals are generally part of an interlock system with the door and/or the dock leveler, where the seal will only inflate once the door and leveler are in the correct positions. Many sizes and shapes of inflatable seals are available.
Next Up: Shelters
In Do you need dock seals or shelters? Part 2: Shelters, we'll talk about dock shelters, and what factors to consider when you're trying to choose between installing seals or shelters.