Forklift Tires | San Francisco Bay Area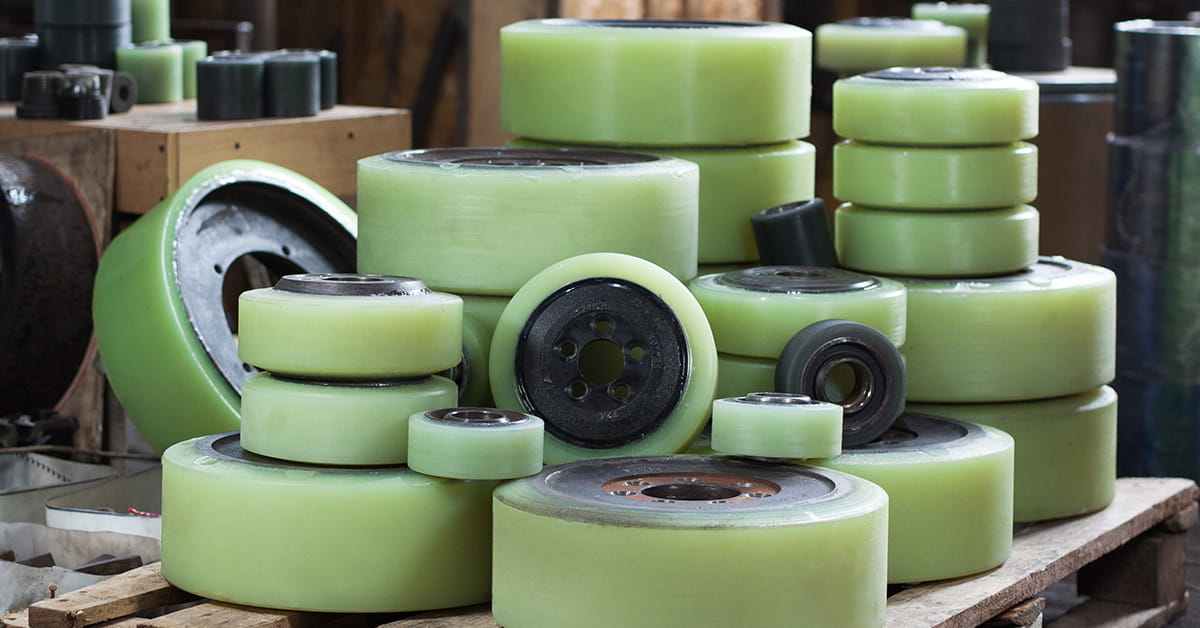 We supply tires for all forklifts, not just Raymond!

Raymond maintains one of the largest material handling parts divisions in the West.

Call now and let us help you find the parts you need:
(800) 675-2500
Forklifts can be purchased in a broad selection of sizes and shapes, and each kind of forklift uses a unique set of tires. Generally, tires are either cushion or pneumatic, however distinctions extist within those categories. Cushion tire and pneumatic tire lift trucks have different types of frames, so they lack interchangeability.
Although your tires are durable and tough, they have to be changed out every now and then. Raymond West sells tires for a variety of forklifts at highly affordable prices.
Cushion Tires
At times referred to as Press On Tires, this variety of tire is generally for indoor use, and occasionally outside on flat surface materials. Cushion tires are of a smaller diameter as opposed to different sorts of forklift tires, and as such possess a shorter turning radius; making them best for smaller circumstances such as warehouse aisles. Putting a cushion tire on a forklift wheel mandates the use of a hydraulic press.
Among the press on tire category, two typical types are present:
Rubber Cushion Tires: Rubber cushion tires are used indoors or on flat outdoor surfaces like asphalt or concrete. They are constructed with solid rubber, molded around a solid steel band. These types of tires can come smooth or with treading. Often the front forklift wheels will have treaded tires while the rear wheels responsible for steering are smooth.
Polyurethane Cushion Tires: Solid poly tires work with heavier loads compared to rubber tires, and they are ideal for use in narrow aisles, order pickers and other warehouse jobs. These tires are lightweight, and are more resistant to tearing, splitting, and chunking when compared to rubber, and their life can be up to twice as long as rubber when carefully maintained.
Pneumatic Tires
Pneumatic and solid pneumatic tires are commonly used in outdoor settings, and are better suited to rough or uneven surface materials as opposed to press on tires. They have superb traction and higher clearance with the ground making them well suited to rougher terrain.
Regular Pneumatic Tires: This sort of pneumatic tire is filled with air, and is ideal for very rough surfaces where shock absorption is important, both for the longevity of the forklift and the operator's comfort. The concern about these tires is that they are more easily punctured, and sometimes they are filled with foam instead of air to prevent flats.
Solid Pneumatic Tires: Solid pneumatic tires work best for level surface indoor / outdoor heavy duty situations. Constructed with solid rubber and almost entirely puncture resistant, they are best used for places with pointy objects, like recycling yards or construction sites.
Non Marking Tires
Non-marking options are available for pneumatic, solid pneumatic, and solid tires. These are assembled with hydrated silicas and other additives to prevent leaving floors marred by black marks.
These kinds of tires are often found in retail facilities or other areas where clean floors are important. They are also used inside certain industrial or food processing plants where dust reduction and cleanliness are important.
Some detractors exist to using non-marking tires. First and foremost, they don't tend to be as durable as other tire varieties and can need to be replaced more often. One more issue is that they are more prone to static electricity buildup, and any lift truck that has them must be equipped with static remediation technology.
Forklift Tires Near Me
With proper maintenance, your forklift tires can decrease energy usage, greatly improve operator comfort, and enhance your overall productivity. To speak with a forklift tire advisor, call Raymond West today!
Raymond West's Fremont facility serves all of the Bay Area, including San Francisco, Oakland, San Leandro, Hayward, Union City, Fremont, San Jose, Santa Clara, Mountain View, Palo Alto, Redwood City, San Mateo, South San Francisco, Richmond, Vallejo, Concord, Pleasanton, Livermore and all surrounding areas.
Raymond West | San Francisco Bay Area Forklift Dealer
41400 Boyce Rd
Fremont, CA 94538
(800) 675-2500