Industrial & Warehouse Catwalks | San Francisco Bay Area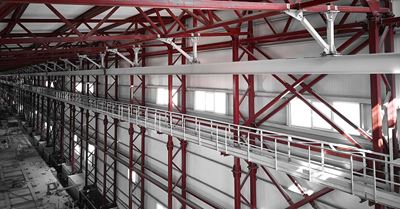 Raymond West supplies warehouse catwalk systems throughout the West.

We are backed by one of the largest service and parts operations in the state.

Call us today at (800) 675-2500.
What are industrial catwalks?
Warehouse and industrial catwalk systems are a safe and practical way for workers to reach overhead areas in a warehouse or plant. They offer an easy means of accessing equipment as well as serving as walkways for workers, and can be made-to-order to address the specific requirements of your facility.
Industrial catwalk systems are engineered to prevent disruption of activities on the floor, and can be assembled very quickly without the need for new construction. Additionally, industrial catwalks, paired with mezzanines are a highly effective way to maximize the utilization of space in your building and boost your capacity without the considerable pain of new construction.
How Are Catwalks Used?
Industrial facilities use catwalks for a variety of purposes, the most typical being to link two points on the warehouse or plant floor without disrupting the wider workflow. As a secondary benefit, this may also improve an organization's safety posture, since catwalks can route employees away from dangerous machinery, substances, forklifts, or other potentially unsafe activities.
Catwalk systems can also facilitate elevated access to tanks, hoppers, machinery and other large installations. Oftentimes, it can be challenging to maintain and adjust large equipment using ground-based options such as scissor lifts. Catwalk systems can be stationed so that employees can readily access equipment for routine service tasks.
Warehouse catwalks are often used in combination with mezzanines to provide access to elevated storage and work areas. These types of configurations can make use of the cubic area in a building, significantly enhancing space utilization and efficiency.
Catwalks are available in a wide array of styles, so you can find one that meets your specific demands. If you're not sure what type of catwalk would work best for your business, contact Raymond West for consultation.
What are the benefits of using industrial catwalks?
There are many advantages to putting catwalks to use in your warehouse. For starters, they can be freely customized to fit the specific needs of your operation. This makes them a perfect solution for a small business with anticipation of growth.
In addition, industrial catwalks allow safe and convenient accessibility to all parts of your building. This is especially helpful in facilities where installed fixtures must be regularly accessed or where there is a lot of ground activity. Essentially, catwalk systems make more of your warehouse accessible while improving safety.
How are industrial catwalks installed?
Factory built catwalk systems usually ship in segments that can be readily assembled at your location. Supports, walkways, rails and stairs can all be bolted together fairly easily. Catwalk assembly can be done by your own team or warehouse experts like Raymond West.
Made-to-order catwalk systems take a bit more effort and time. After an initial site analysis, engineering, fabrication and installation can take a few weeks.
Are industrial and warehouse catwalks safe?
Without question, catwalks are safe. They are outfitted with safety rails and stairs, and their heavy steel architecture can easily withstand mishaps like light lift truck impacts and other safety incidents.
In fact, catwalk systems can greatly improve the safety profile within your facility by removing workers from potentially dangerous activities. For warehouses with heavy forklift traffic, catwalk systems can route pedestrians away from lift trucks and reduce accidents.
For a few industrial processes like chemical processing or smelting, catwalks can be essential equipment for distancing employees from potentially hazardous processes.
Catwalk Systems Near Me
If you think your operation could benefit from the use of catwalks, or you want to discuss options for catwalk or mezzanine systems, contact an engineering expert at Raymond West today.
Raymond West's Fremont facility serves all of the Bay Area, including San Francisco, Oakland, San Leandro, Hayward, Union City, Fremont, San Jose, Santa Clara, Mountain View, Palo Alto, Redwood City, San Mateo, South San Francisco, Richmond, Vallejo, Concord, Pleasanton, Livermore and all surrounding areas.
Raymond West | San Francisco Bay Area Material Handling Equipment Supplier
41400 Boyce Rd
Fremont, CA 94538
(800) 675-2500