Horizontal Carousel Systems | San Francisco Bay Area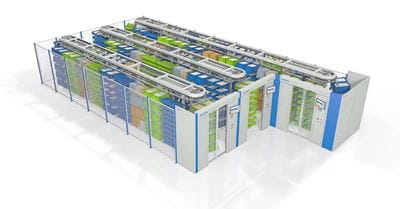 Raymond West supplies warehouse automation equipment such as horizontal carousels.

We are among the largest suppliers of warehouse automation equipment in the state.

Call us today at (800) 675-2500.
A horizontal carousel system is a type of automated storage and retrieval system (ASRS) deployed in warehouses and distribution centers to handle retrieval and storage of items effectively. It consists of a sequence of trays or bins affixed to a spinning carousel, and pick materials are moved to the retrieval position, in a "good-to-person" way.
The Advantages Of Horizontal Carousels
One distinct benefit of a horizontal carousel system is its ability to maximize available area. Through utilizing a turning platform, a horizontal carousel enables the storage of a large amount of components in a small floor area, enabling distribution centers and warehouses to put their space to use more efficiently. This ends up being particularly helpful in implementations in which floor space is finite or costly.
Another plus of horizontal carousel systems is their speed and reliability. Seeing as the picking instrument can swiftly and conveniently access the desired bin or tray, the carousel can retrieve articles faster than a human picker. This helps material handling facilities cut back the time required to fill orders, which lends itself to increased productivity and customer satisfaction.
Beyond these advantages, horizontal carousels can also help material handling facilities lessen their labor costs. Because the system is automated, it can operate 24/7 without needing breaks or shifts. This limits the need to utilize laborers, and is often highly noteworthy for warehouses and distribution centers that have to output orders on a all day basis.
Horizontal Carousel Types
There are varying unique styles of horizontal carousel systems on the market, each with select individual conveniences and features. Several of the most prevalent types include:
Standard Horizontal Carousel: These "typical" horizontal conveyors are often clustered jointly into a workstation or pod and employed for batch picking applications. The number of carousels necessary for each pod depends on volume expectations. Wares can be picked either by a human staff member or a robotic arm.
Put Horizontal Carousel: This kind of storage system functions similarly to a put wall, but in place of a wall it consists of a carousel of trays. It is frequently used for consolidation or within an operation.
Robotic Horizontal Carousel: Fully robotic carousels turn the requested tray to an inserter/extractor, which picks the appropriate bin on demand. A conveyor delivers the tote to the next location within the operation.
When considering a horizontal carousel system for a distribution center or warehouse, it's crucial to carefully evaluate the unique demands of the enterprise. Factors to review involve the footprint and layout of the facility, the kinds of wares in storage, and the amount of orders that need to be fulfilled.
Beyond the preliminary cost of the horizontal carousel, facility executives will also need to consider continuing maintenance and repair costs. It's crucial to select a carousel that is reliable and durable, as downtime can be expensive in terms of lost productivity and patron satisfaction.
Contact A Warehouse Automation Expert
Overall, horizontal carousel systems are often a worthwhile acquisition for warehouses and distribution centers looking to elevate productivity and reduce spending. By automating the storage and retrieval of items, such systems are able to help facilities improve supply, reduce labor costs, and boost customer satisfaction.
Raymond West's Fremont facility serves all of the Bay Area, including San Francisco, Oakland, San Leandro, Hayward, Union City, Fremont, San Jose, Santa Clara, Mountain View, Palo Alto, Redwood City, San Mateo, South San Francisco, Richmond, Vallejo, Concord, Pleasanton, Livermore and all surrounding areas.
Raymond West | San Francisco Bay Area Material Handling Equipment Supplier
41400 Boyce Rd
Fremont, CA 94538
(800) 675-2500