Pallet Shuttles | San Francisco Bay Area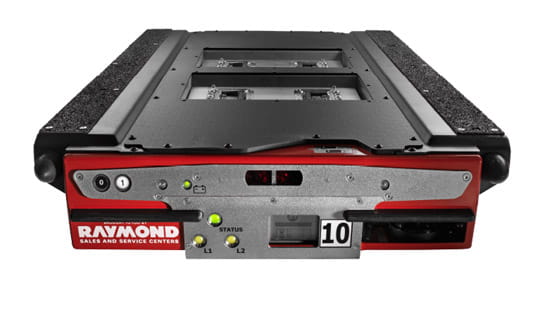 Raymond West supplies a full range of warehouse automation equipment, including pallet shuttle systems.

If you'd like to find out more about automation possibilities for your Bay Area warehouse, give us a call at (800) 675-2500.
A pallet shuttle is an automated, independent, deep lane pallet storage system that uses self-propelled shuttle carts to transport pallets backward or forward in a racking channel. Shuttles are powered by electric motors and travel along rails within a storage lane.
When storing products, a forklift places pallets in the first slot in a lane and the cart carries the pallet backward to the furthest empty position in the rack until the channel is completely loaded. When removing products, unit loads are collected from their location and transported to the foremost position to be selected by a forklift.
Pallet shuttle solutions are well suited to high turnover warehouses and enable workers to automatically load and pick up pallets using a truck mounted transmitter or integration with a WMS.
Maximize Warehouse Storage Density
Warehouse operators gain significant benefits from deep lane AS/RS systems through increased storage density inside their buildings. Fewer forklift lanes are required, and consequently a good portion of that corridor space is recovered for storage. Carriage mounted sensors permit pallet shuttles to position pallets in very close proximity, making the most of storage capacity within each land. Furthermore, with a shuttle, minimal clearance is required between levels allowing more vertical storage as well.
Improve Warehouse Efficiency and Safety
There are more benefits to shuttle systems than just added capacity. Operational efficiency goes off the charts because forklifts no longer have to drive to specific aisles--every pallet is loaded or retrived from a primary interface. This substantially shortens typical loading and unloading intervals. Accordingly, it can reduce the number of forklifts required, and more to the point, greatly reduce labor costs because not as many workers are necessary.
When you reduce the number of forklifts driving up and down aisles, you also reduce your chances of accidents. Fewer lift truck hours mean fewer damaged forklifts and racks, less product damage and fewer safety incidents or injuries.
Raymond Radioshuttle
Raymond's Radioshuttle solution is among the most innovative pallet shuttle options available. As the the pioneer in pallet shuttle systems nearly three decades ago, Radioshuttle features extremely fast shuttle speeds and a battery recharge interval of 8-14 hours, depending on system setup. Radioshuttle solutions are also incredibly reliable and sturdy—some systems deployed as far back as 1990 are still in service today!
Radioshuttle units can handle weights of up to 3,900 pounds. And for extreme conditions or cold storage applications, Radioshuttle is the perfect option. Even in temperatures from -22 to +104 degrees, the equipment continues to perform dependably.
Pallet Shuttle Systems Near Me
If you'd like to learn more about your options for pallet shuttles or other warehouse automation systems, give Raymond West a call today!
Raymond West's Fremont facility serves all of the Bay Area, including San Francisco, Oakland, San Leandro, Hayward, Union City, Fremont, San Jose, Santa Clara, Mountain View, Palo Alto, Redwood City, San Mateo, South San Francisco, Richmond, Vallejo, Concord, Pleasanton, Livermore and all surrounding areas.
Raymond West | San Francisco Bay Area Material Handling Equipment Supplier
41400 Boyce Rd
Fremont, CA 94538
(800) 675-2500