Forklift Repair | Fresno, CA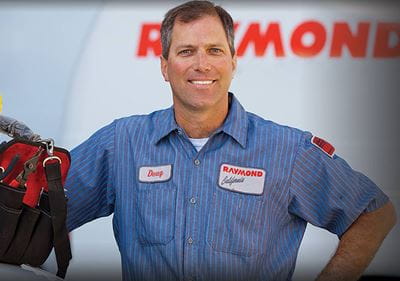 Raymond West is a Fresno based forklift repair service for all makes and models of lift trucks.

We are backed by one of the largest parts departments in the Central Valley.

Call us today at (559) 264-7500.
If you have a high volume warehouse, losing just a single forklift during a shift due to mechanical problems can mean substantial losses in productivity. There could also be less obvious costs to sidelined forklifts. For instance, you may have an inactive or underused worker while your truck is being repaired, you may suffer loss of reputation as a result of delayed shipments, and you may have to pay overtime to make up for lost time when your equipment is back in service.
Though proper truck maintenance can prevent many unexpected forklift breakdowns, sometimes they are inescapable.
Twenty-four hours, or even a half day is too long to wait in situations where you need a forklift back on the job as soon as possible. With an on-site interval of just over two hours, Raymond West has the speediest dispatch time of any service operation in many parts of the state. We can dispatch a technician at a moment's notice from any of our branches throughout the West. Our staff of highly trained, authorized technicians are each equipped with service vans that have all the components and tools they may require to get the job done right the first time. Other service operations may take twenty-four hours or more to arrive on the job site, troubleshoot an issue and fix a vehicle. Raymond's experts can often achieve the same job within just a few hours of your initial service call.
Raymond West has more than 4,000 parts on hand and access to more than 100,000 part numbers for all manufacturers and models of lift trucks. We feature one of the best stocked parts departments in the region and can supply components for most major manufacturers.
Scheduled Forklift Service
Regular service of your lift trucks is crucial when you want to enhance your truck availability and productivity. To help you prevent mechanical issues, our planned service coverage includes routine examination and service of your trucks. Raymond's squad of highly qualified technicians will carry out all the required inspections and service you need for your trucks. For your convenience, you can keep your forklifts working when you need them and set an appointment for service during off-peak periods based on your own time table.
Comprehensive Forklift Maintenance
Our total forklift maintenance program incorporates all planned maintenance, parts and labor at one set monthly charge. The benefit is that along with preventative predefined maintenance, all parts and labor for unplanned maintenance events are included as well. The fixed recurring charge makes budgeting easy and uniform, and it can be significantly lower cost than using skilled maintenance workers. For multiple shift facilities, high velocity DCs and highly utilized truck fleets, all inclusive plans are often a smart economic decision.
Forklift Repair Near Me
Phone Raymond West now to get more information on equipment maintenance or service programs, or to request forklift repair service.
Raymond West's Fresno facility serves much of the Central Valley, including Fresno, Clovis, Madera, Visalia, Tulare, Lindsay, Hanford, Lemoore, Los Banos, Santa Nella, Dos Palos, Firebaugh, Kettleman City, Coalinga, Avenal, Mendota, Kerman, San Joaquin, and all surrounding areas.
Raymond West | Fresno Forklift Dealer
2935 S Elm Ave #101
Fresno, CA 93706
(559) 264-7500