Comprehensive Intralogistics Expertise

Making up the entire West Coast, Raymond West is your go to for all things material handling. We offer industry-leading expertise in not only forklifts but also racking, conveyor, dock and door, rentals, parts, and service. Our customers can rely on us to exceed their expectations by providing supply chain knowledge as well as our commitment to ensure their business is up and running 24/7.
Our Vision
Establish a new standard for powering the world's leading businesses with optimized end-to-endless intralogistics solutions.
Our Mission
We provide accelerated and optimized intralogistics solutions to solve our clients' problems; any challenge they have within their facility moving and storing material - we have the solution. Through our commitment to our clients, we foster lifelong relationships and are dedicated to quality, performance, and continuous improvement with end-to-endless solutions for the world.
---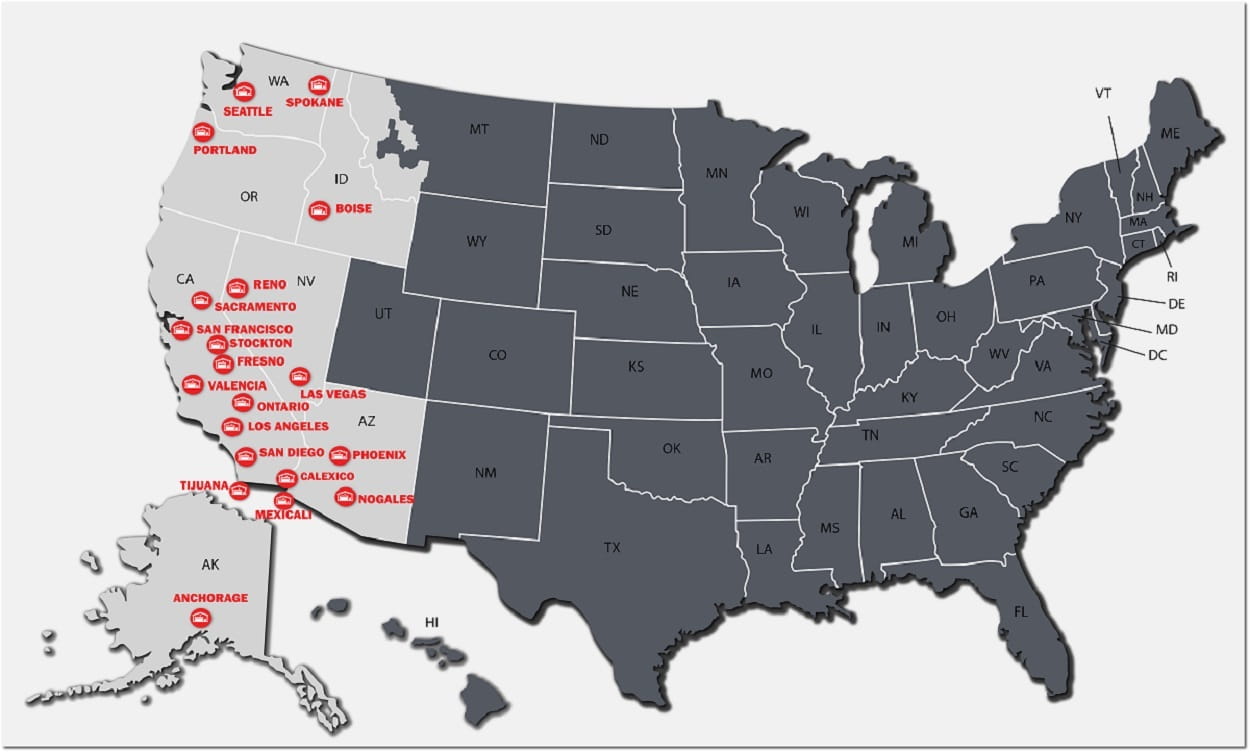 Raymond's Material Handling Innovations
Small-town Roots Grow to World-class Success

From a small village in central New York to the farthest corners of the world, The Raymond Corporation's world-class success began when George Raymond Sr. purchased a foundry in the village of Greene, New York, in 1922. With an eye for innovation and a vision for the future, George Raymond surrounded himself with talented employees who revolutionized the material handling industry.

The Double-faced Wooden Pallet

It began with the design and patent for the wooden pallet in 1939 — what we now know as a double-faced wooden pallet.

Hydraulic Hand Lift Truck

On Nov. 7, 1939, George Raymond, Sr. and employee William House were granted a patent for the first hydraulic hand pallet truck, which was to be used in unison with the double-faced wooden pallet.

The First Narrow Aisle Truck

In 1949, Christian D. Gibson began work designing the first narrow aisle truck. George Raymond Sr. and Christian D. Gibson were granted a patent for the power-driven, narrow aisle material handling truck in 1951 — pioneering the narrow aisle concept.

Narrow Aisle Principles of Design

The Lyon-Raymond Model 700 SpaceMaker truck was the first electric, narrow aisle lift truck. It was able to work in aisles less than 7 feet wide. Designed without a counterbalancing chassis, the vehicle preserved its gravitational integrity by straddling the pallet with baselegs, the basic principle for all narrow aisle trucks from that point on. This truck made The Lyon-Raymond Corporation the undisputed leader in the material handling industry.

Very Narrow Aisle Beginnings

Raymond introduced very narrow aisle to North America in the 1970s with the first Swing-Reach® truck.

Technological Advancements

As technology rapidly improved, The Raymond Corporation launched the first microprocessor-controlled lift truck in North America in 1986.

Ergonomic Designs Enhance Operation

Raymond is an ergonomic leader in the world of material handling. The ergonomically advanced control handle was introduced by The Raymond Corporation in 1991. It allows the operator to execute all the functions of a lift truck with one hand.

AC Power

Raymond introduced the first AC-powered Reach-Fork® truck built in North America in 2001, on the 50th anniversary of the first narrow aisle truck. AC power improves productivity, increases work done per battery charge and significantly reduces maintenance costs.

Hydrogen Fuel Cells in Material Handling

In partnership with hydrogen fuel cell manufacturers and our customers, The Raymond Corporation began the research and development of the application of fuel cells to battery-powered lift trucks in 2007, and developed the industry's first fuel cell-compatible orderpicker truck.

Forklift Fleet Management

In 2008, Raymond introduced iWAREHOUSE, the industry's most comprehensive forklift fleet management system. Like our world-class lift trucks, we strive to continuously improve our optimization solutions to deliver greater efficiencies and cost savings to our customers. In 2016 we introduced iWAREHOUSE Evolution, a scalable telematics platform that allows features to be easily added or removed to suit your business needs—from essential forklift fleet management to maintenance tracking, remote service dispatch, labor management tools and custom consulting services.

Lithium-ion Powered Forklifts

In 2017, The Raymond Corporation introduced its first lift truck powered by a Lithium-ion battery. The Lithium-ion technology reflects Raymond's commitment to alternative energy solutions that can enhance efficiency and productivity in a customer's demanding warehouse application.

Integrated Technology

Also in 2017, Raymond introduced its Integrated Technologies to create the next generation of lift trucks. A Multifunction Color Touchscreen Display, built into the control system of the truck, simplifies the day-to-day challenges of everyone in a warehouse. Providing real-time truck data with invaluable insights to benefit operators, managers, technicians and everyone in-between.

Virtual Reality Simulator

In 2018, Raymond debuted its Virtual Reality Simulator. A complement and supplement to training programs, the VR Simulator puts operators on the actual lift trucks they'll be using for enhanced confidence. It is a unique training tool that can simplify everything from hiring to teaching to developing employees for enhanced performance and efficiency.