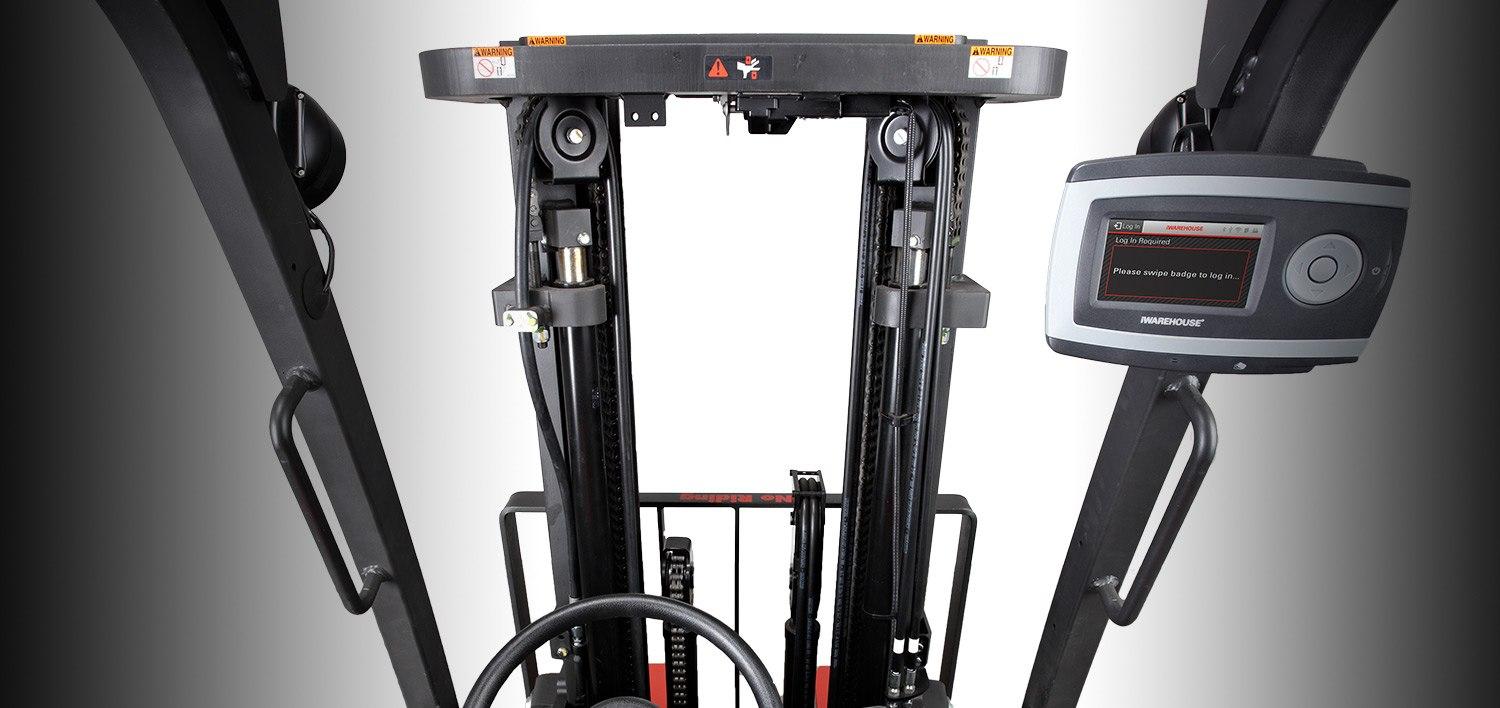 Our New, Scalable, Telematic Solution

iWAREHOUSE Evolution is a new, scalable, telematic, single solution that lets you add functionality as the needs of your operation evolve. iWAREHOUSE Evolution provides warehouse managers with tools to promote operator accountability, monitor impacts, maintain compliance records and report on utilization metrics for everything from a single operator or battery to an entire industrial vehicle fleet. The intuitive display provides an easy-to-use, full-color, touch screen operator interface.
Included Functionality

| | |
| --- | --- |
| SUBSCRIPTION BILLING | • Bundle your iWAREHOUSE system into one easy monthly payment for hardware, software and services |
| TEXTING | • Allows managers to send messages to operators on vehicles and operators to send pre-programmed responses back to managers |
| INTERNATIONAL CAPABILITY | • iWAREHOUSE Evolution is certified for use in the United States, Canada and the European Union |
| 5GHz COMPATIBLE | • Gives the choice of a different wireless network if 2.4 GHz is crowded |
Vehicle Access and Control

Automated vehicle access ensures that operators have access to the vehicles that they are certified and authorized to use. Track fleet and operator performance and remotely adjust vehicle and operator parameters. The iWAREHOUSE Gateway web portal provides 24/7 access to fleet and operator data using your smartphone, tablet or computer.

Impact Alerts

Promote safety and operator accountability while monitoring and reporting on impacts with immediate impact alerts. Automatic email or SMS notifications identify both the operator and vehicle involved and the system can be programmed to limit vehicle speed after an incident.

Enterprise Functionality

Enterprise features provide additional fleet and operator activity data to identify potential opportunities for improvement in your operations. Load sensing, task selection, report customization, cellular communication, labor management integration and warehouse management system integration are available as optional enterprise-level enhancements to your iWAREHOUSE Evolution system.
Add Features As You Need Them

TASK SELECTION

● Track jobs performed on and off the truck




● Hold employees accountable based on existing labor standards

LABOR MANAGEMENT SYSTEM INTEGRATION

● Low Labor Costs

LOAD SENSING

● Visibility to productive hours when your operators are carrying a load versus traveling with empty forks

CELLULAR DATA COMMUNICATION

● Reduced implementation time




● No IT involvement required due to not using your existing wireless network

REPORT CUSTOMIZATION

● Enables custom report creation to measure customer specific KPIs
Contact Us
Contact us to learn more about iWAREHOUSE Evolution.