Used Forklifts | Fresno, CA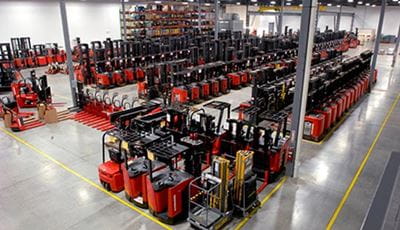 Raymond West is a Fresno area supplier of used forklifts.

We are backed by one of the largest service and parts operations in the Central Valley.

Call us today at (559) 264-7500.
Are you thinking about buying used forklifts? There are thousands of preowned lift trucks for sale here in town and throughout the state. Purchasing gently used lift trucks is usually a sound strategy and it may save you a fair amount of cash. If you're not quite sure about acquiring pre-owned lift trucks, take into account some of the upsides:
When acquiring brand new fork trucks, terms negotiation and order delivery can take time. One great advantage to used lift truck sales is that they are usually close by, often close fast and you can take delivery sooner.
Used Forklift Pricing
Similar to purchasing a pre-owned vehicle, you will often pay less when you buy pre-owned lift trucks. Pre-owned lift truck pricing discounts depend greatly on the truck variety and brand of forklift, but you will usually pay quite a bit less for pre-owned fork trucks. When you find a previously owned lift truck for sale, the best practice is to check pricing on two equivalent vehicles in your city to make sure you're getting a decent price.
Pre-Owned Lift Truck Values
Buying pre-owned in lieu of new can often allow you to get much better forklifts than you could otherwise manage to buy. Used forklift prices for newer models that are very similar to the newest on the showroom floor can be highly discounted, meaning you can get the latest and greatest for a fraction of the price of new.
Used Forklift Dealers
When you buy from a used lift truck dealer that is also a distributor, you can get dealer certified, used lift trucks that are almost as good as purchasing new. These used lift trucks are fully examined, refreshed and mechanically restored by fully qualified specialists and they usually are sold with a warranty.
Buying from a distributor also gives you access to their financing, service contracts, parts network and other things that are not available with a private party transaction.
Other Factors
Since you're now up to speed on some of the advantages of buying preowned lift trucks, you might want to contemplate several extra variables to see if a used forklift strategy is appropriate for your operation:
Lift Truck Hours of Use: how much will you be using your forklifts? If you're using your equipment throughout multiple shifts, seven days a week, it may actually be better to lease your lift trucks or buy them new, even if you increase your cost up front. Heavy use patterns are more appropriate for new forklifts, or trucks that you're not ultimately responsible for maintaining.
Service Capability: are you employing mechanics that can service your preowned lift trucks? When you have an expert on staff that can fix and service preowned forklifts, it can be very economical to go the pre-owned route. If you don't, you may want to sign up for a service agreement.
Trustworthy Preowned Forklift Dealers: buying from a well known, experienced dealer is always wise. Dealerships will many times resell off-lease equipment that has been regularly and appropriately maintained. Private transactions, however, are generally a gamble—you typically can't verify the true history of the forklifts or the manner in which they were serviced.
Forklift Safety: when buying a used lift truck, you should always be mindful of safety as your leading concern. Always request a used forklift inspection from a qualified technician.
Preowned Lift Truck Warranty: previously owned lift trucks bought from dealers frequently come with an initial warranty. When you can secure an additional warranty or maintenance contract, you should consider the extra expense vs the cost of buying new equipment.
Used Forklift Near Me
If you'd like to buy a used forklift or get information on used forklifts available, call a professional at Raymond West today.
Raymond West's Fresno facility serves much of the Central Valley, including Fresno, Clovis, Madera, Visalia, Tulare, Lindsay, Hanford, Lemoore, Los Banos, Santa Nella, Dos Palos, Firebaugh, Kettleman City, Coalinga, Avenal, Mendota, Kerman, San Joaquin, and all surrounding areas.
Raymond West | Fresno Forklift Dealer
2935 S Elm Ave #101
Fresno, CA 93706
(559) 264-7500