Covid 19 Safety Products | Fresno, CA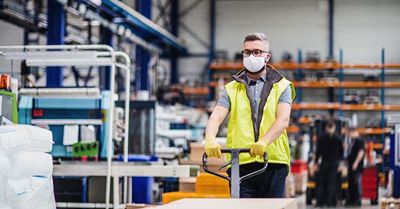 Raymond West is a Fresno material handling equipment company, offering a full range of warehouse safety products for Covid 19.

We are backed by one of the largest service and parts operations in California.

Call us today at (559) 264-7500.
If you operate a warehouse, distribution center of production facility, personnel health protection is now a number one priority. The transmission of Covid 19 throughout your enterprise can mean loss of capacity, loss of morale and even loss of life for your people. While there are many approaches that can possibly be used to avoid the spread of disease within your operation, there are two that may be introduced by practically any business:
Evaluate the health of your team members each day before they enter your building through basic temperature screening.
Ensure that all employees use masks whenever they are near other personnel.
These two practices, brought together with additional strategies like staggered arrival and break times, physical distancing and others can make a significant decrease in the spread of Covid.
Covid Entrance Screening
As your team members clock in for their workday, the last thing you want to do is have them assemble and hang around while everyone gets their temperature read one at a time. This is not merely a waste of time, it can create an extra threat by having unscreened workers in close proximity for long periods of time while they wait in line.
The solution is to provide a temperature screening kiosk that has the ability to instantly scan an array of people at the same time as they go past. Although there are countless temperature scanning devices on the market, very few can effectively manage high traffic operations. Raymond Handling Solutions offers a state-of-the-art option from Dahua, a global leader in advanced thermal scanning equipment.
The Dahua Technology system can determine the distinct temperatures of up to 30 employees at once, while coupling that data with advanced face scanning technology that determines the presence or absence of a mask on each person.
Employee Temperature Monitoring
While a kiosk is a great solution for entrance points to your location, what about keeping track of employees throughout the work day? It's certainly likely that an employee could develop a fever in the middle of their shift, and by tracing thermal data throughout the workday you can improve employee safety while minimizing the probability of a disastrous Covid surge.
Dahua features wall mounted thermal camera systems that can passively monitor for body temperature anomalies during the workday. If an staff member does show a higher than ordinary reading, they could be asked to undergo an added precautionary screening.
As your workers go about their day, it's easy to forget to wear a mask. Camera technology from Dahua can detect mask-use observance and notify supervisors to non-compliance events. As an included advantage, a camera solution can help your employees avoid disputes about mask utilization and help everybody feel protected.
Thermal Scanning Equipment Near Me
Raymond West offers a full variety of warehouse safety solutions for its customers in Fresno, including employee health and safety monitoring devices from Dahua. If you would like to learn more about thermal scanning, mask use monitoring or other safety program, contact one of our warehouse safety experts today!
Raymond West's Fresno facility serves much of the Central Valley, including Fresno, Clovis, Madera, Visalia, Tulare, Lindsay, Hanford, Lemoore, Los Banos, Santa Nella, Dos Palos, Firebaugh, Kettleman City, Coalinga, Avenal, Mendota, Kerman, San Joaquin, and all surrounding areas.
Raymond West | Fresno Material Handling Equipment Supplier
2935 S Elm Ave #101
Fresno, CA 93706
(559) 264-7500