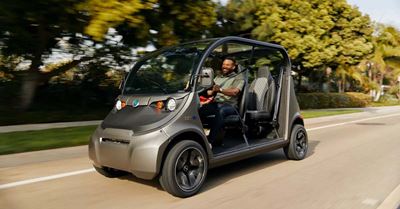 Raymond West offers a full range of utility vehicles such as GEM Cars for all industries and uses throughout the West.

We are backed by one of the largest service and parts operations in the state.

Call us today at (800) 675-2500.
EVs are getting more and more popular for businesses because of their environmental and monetary advantages. Businesses are looking for options to reduce their carbon footprint and improve their bottom line, and E-vehicles are a great tool to do both. GEM by Polaris electric vehicles offer reliability and efficiency, and provide many advantages to companies planning to move to EVs.
GEM Utility Vehicles Lower Costs
One of the major benefits of using GEM vehicles is their affordable ownership costs. GEM vehicles can be powered by various sorts of battery, from standard lead-acid types to bleeding edge lithium-ion options, which provide an effective and affordable way to power these EVs.
The batteries are also dependable, and lithium-ion varieties are able to last for more than 3,000 charges. Furthermore, GEM electric vehicles require far less regular maintenance than gas-powered vehicles, meaning you'll save money on servicing and labor costs.
Electric Vehicles Reduce Environmental Impact
An additional benefit of GEM electric vehicles lies in their eco-friendly impact. GEM electric vehicles don't produce emissions, which helps to lower air pollution and preserve the environment. This is especially important for businesses that run in places with air quality problems. Additionally, GEM electric vehicles are extremely quiet, so they won't trouble neighbors or upset the natural environment.
GEM Industrial Utility Vehicles Are Versatile
GEM electric vehicles are additionally extremely flexible, and are able to be employed for a variety of applications. From moving goods to providing transportation for workers and clientele, EVs by GEM can handle the job. They are available in various form factors and styles, so you can get the perfect version for your needs.
GEM Cars Are Cost Effective
Lastly, GEM electric vehicles offer organizations an excellent return on investment. With their inexpensive cost of ownership, organizations will save money longterm. Additionally, GEM vehicles may be eligible for quite a few tax credits and incentives, location dependent, which can additionally reduce the cost of ownership. This makes GEM electric vehicles a great choice for businesses aiming to switch to to electric vehicles.
Talk To An Electric Utility Vehicle Expert About GEM Cars
To find out more about EVs by GEM, reach out to a professional in electric vehicles at Raymond West right away. GEM electric vehicles from Polaris provide companies with a number of benefits. They are cost-effective, environmentally sustainable, and offer an excellent return on investment. If you're looking for a reliable and efficient way to power your operation, EVs by GEM are the ideal choice.
Raymond West's Fresno facility serves much of the Central Valley, including Fresno, Clovis, Madera, Visalia, Tulare, Lindsay, Hanford, Lemoore, Los Banos, Santa Nella, Dos Palos, Firebaugh, Kettleman City, Coalinga, Avenal, Mendota, Kerman, San Joaquin, and all surrounding areas.
Raymond West | Fresno Material Handling Equipment Supplier
2935 S Elm Ave #101
Fresno, CA 93706
(559) 264-7500