Flexible Conveyors | Fresno, CA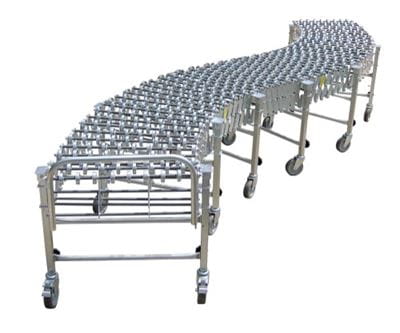 Flexible conveyors are an ideal solution for fast moving warehouses.

Raymond West is the top warehouse automation supplier in the Central Valley.

To speak with an automation expert, give us a call today at (559) 264-7500.
Flexible conveyor systems permit you to relocate conveyor entry or exit positions by adjusting conveyor sectors according to changing conditions throughout your hours of operation. These expandable conveyor solutions are often utilized in e-commerce operations or loading docks where truck trailers are loaded and unloaded. One conveyor solution can be set up to serve multiple dock slots.
Flexible Gravity Conveyor
Flexible gravity conveyor systems are set up with skate wheels or non-powered conveyor rollers and come in many capacities and widths, from minimal systems for occasional use to heavy duty options adequate for deployment in distribution centers and other high volume operations.
Although steel skate wheels are typical, these conveyors can be configured in other materials such as plastic, stainless steel and aluminum.
Steel skate wheels offer a multitude of benefits and are a perfect choice for a wide variety of enterprise applications from storage space to assembly lines. They are well suited for lightweight, flat-bottomed pieces like cartons. Because each wheel turns independently, they are commonly employed for arced conveyor segments.
Gravity rollers are better suited for heavier goods, and can also accommodate irregular package surfaces in addition to flat based items. Rollers don't rotate as fast as individual skate wheels, so roller configurations can be put to use for accumulation applications where skate wheels aren't the right fit.

FMH Conveyors
Flexible Powered Conveyor
Warehouse docks are busy places that have many functions, from unloading trailers to loading individual cases onto delivery trucks. Compact, flexible, modular conveyors are the ideal way to maintain versatility on your loading dock while improving efficiency.
In most sophisticated warehouse operations, storage density is a dominant consideration. When not in use, these conveyors can be almost fully collapsed, making a much smaller storage footprint versus the alternatives.
Power conveyors can also improve safety and ergonomics. By establishing an unimpeded route between the trailers at your dock and the end of a permanent conveyor, these systems create ergonomic benefits for your employees, reduce the risk of injury, strengthen safety and enhance productivity.
Roller conveyors can be ordered in a range of roller widths, from 1.5-1.9 inches. They are adjustable in height, allowing you to use them for different truck heights and applications. With a payload capacity of up to 100 lbs per foot, these conveyors are perfect for many different categories of products.
Powered options feature variable rates, from 0-120 feet per minute. Start and stop controls are positioned on both ends of the machine so that they can be controlled from both sides. They are also furnished with heavy duty castors and brakes, so they can be easily moved but safely fixed in place when necessary.
Flexible conveyors are recommended for a wide variety of fields, including e-com, distribution centers, beverage and grocery distribution, retail, 3PL, manufacturing, parcel post and more.
Expandable Conveyors Near Me
Raymond West features a wide variety of modular conveyor systems in many different widths and classes. To get more information on the benefits of flexible conveyors, get in touch with a conveyor professional at Raymond West right now!
Raymond West's Fresno facility serves much of the Central Valley, including Fresno, Clovis, Madera, Visalia, Tulare, Lindsay, Hanford, Lemoore, Los Banos, Santa Nella, Dos Palos, Firebaugh, Kettleman City, Coalinga, Avenal, Mendota, Kerman, San Joaquin, and all surrounding areas.
Raymond West | Fresno Material Handling Equipment Supplier
2935 S Elm Ave #101
Fresno, CA 93706
(559) 264-7500