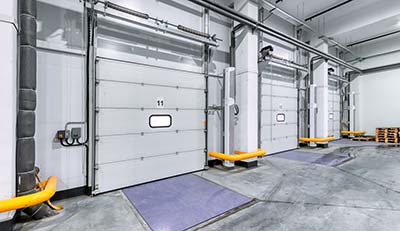 Raymond West supplies and services dock doors in Las Vegas.

We are backed by one of the largest service and parts operations in Nevada.

Call us today at (702) 651-6480
Warehouse dock doors receive quite a lot more use than typical industrial doors. In a high throughput dock environment, some industrial doors may raise and lower more than a dozen times a day, resulting in extra wear and tear on tracks, rollers, springs, cables, panels and other overhead door elements. As a result of this unrelenting use, dock doors should be kept on a ridgid maintenance schedule.
Forklifts and pallet trucks are often in close proximity to dock doors, and dock doors are occasionally struck by mismanaged equipment. Even a superficial forklift impact can knock an overhead door out of its tracks or even destroy it completely.
A broken or jammed overhead door can threaten your building security if the door is jammed in an open position or cannot be adequately secured. An unsecured door can also subject products to weather or rodent damage while needlessly wasting energy.
Door repair should be left to trained technicians, because compromised doors can be a real safety issue in your warehouse. Weighty doors and rollers can easily break or chop off fingers, and high tension torsion springs can cause serious injury or even death. It's also advisable to clear the area under a broken door of workers and products, as doors that go off their tracks can fall suddenly.
Dock and Door Experts
Loading dock door sales and service is Raymond West' specialty. We sell, install, repair and maintain all varieties of commercial overhead doors.
With over 400 service techs across 19 branches, we serve all of Nevada and have an expert near you.
Our technicians are familiar with all dock equipment, interlock systems, and other warehouse systems that most other service companies don't have experience with.
Raymond's trucks carry general parts and all the tools needed for the vast majority of dock and door repairs.
Raymond has one of the largest parts departments in Nevada, and we carry components for all manufacturers of loading dock doors and other loading dock systems.
High Speed Door
For high volume, climate controlled or energy saving facilities, Raymond offers a variety of high speed roll up doors in many different substrates for uses ranging from industrial to clean room applications. Whether you're looking for interior or outdoor setup, we provide high performance doors made of durable fabric, rubber or metal for all types of uses.
Our high performance door control systems minimize air exchange, reduce open/close cycle times and provide easy, intuitive usability for your workers. With safety features like LED signaling for high forklift traffic areas and emergency egress options, we provide some of the most sophisticated high speed door solutions on the market.
Las Vegas Warehouse Door Repair
Raymond West is not a "garage door" company. We specialize in DC, warehouse and industrial doors, and all of our technicians are qualified to maintain many different varieties of material handling equipment and systems.
Raymond West features one of the most highly trained teams of warehouse technicians in the business.
We offer 24 hour emergency service.
We generally have a dispatch on site within 2 hours.
If you need door maintenance, repair, installation or advice, give Raymond a call today!
Raymond West Las Vegas
2555 E. Washburn Rd.
North Las Vegas, Nevada 89081
(702) 651-6480