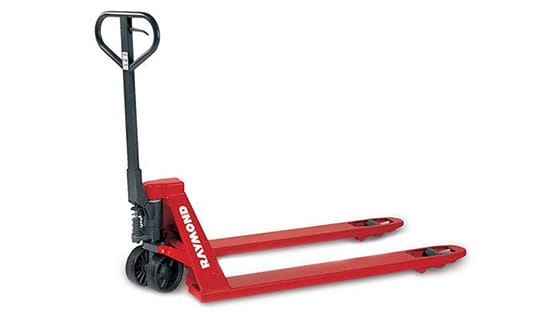 Raymond West is a Las Vegas supplier of new and used electric and manual pallet jacks.

We are backed by one of the largest service and parts operations in Nevada.

Call us today at (702) 651-6480
Anytime you are thinking about the procurement of pallet jacks, it's essential to consider the positive points and a few of the negative aspects of assorted styles of pallet equipment.
Of course, the fundamental role of a pallet truck is to propel pallets around a distribution center, loading dock or some other business where pallets have to be moved.
Nevertheless, depending upon the volume of your enterprise, the tonnage of pallets that need to be positioned, the consistency of utilization, and various other considerations, you will most likely wish to get a greater comprehension of which pallet trucks perform best in which environments.
The following report is a review of pallet truck categories, functions, constraints and use scenarios.
Hand Pallet Jacks
Non-motorized pallet trucks have been in existence since around 1920 and have never been modified much since then. They are composed of a steel chassis, a fork and a hydraulic component that's actuated by pushing the handle vertically.
The operator of a non-powered pallet truck places the forks beneath the pallet, raises the pallet away from the floor and pushes the pallet to a secondary location, driving with the tiller.
Situations where lift elevation is not important are an appropriate use for a non-powered pallet truck, including retail aisles, warehouse loading docks and related uses. As opposed to a lift truck, manual pallet trucks are also moderately portable and will fit in the back of a truck or cargo van for delivering products. The load capability of many hand pallet trucks is about 5500 lbs.
Hand pallet trucks are suitable for intermittent use situations across limited spans. Hand pallet jacks are not the most effective selection for transporting payloads across extended distances, steep gradients or bumpy surfaces because operators need to physically push or pull the equipment, which may be physically draining after a period of time.
Walkie Pallet Jacks
Despite the fact that they're about two times the scale of non-powered pallet trucks, walkies are nonetheless fairly small in overall size and they're exceptionally maneuverable.
Walkie pallet trucks are electrified by on-board battery units. The battery generates a powered assist for propelling and lifting the forks. The user no longer needs to activate the tiller to raise the payload, nor do they have to manually propel the payload throughout the warehouse.
Even so, they're still known as walkies, given that the driver does still have to walk at the rear of or next to them.
A walkie pallet truck's highest rate of speed is modest in comparison with rider jacks, considering that the user needs to keep up with the jack instead of standing on it. This is in reality a little bit of an unintentional "safety feature", since restricted speeds also lessen the consequences of collisions.
The weight capacity of many walkie pallet trucks is anywhere between 4500-6000 lbs.
Even though they're more user-friendly than non-powered pallet trucks, walkies must be charged on a regular basis, considering that they are battery based. In addition, they necessitate more care than non-motorized pallet trucks given that there are a lot more moving pieces and points of potential electrical issues.
The main uses for walkie pallet trucks are dock plates, trailers and brief to mid-length runs.
Rider Pallet Trucks
Rider pallet trucks resemble walkies, although they offer a basic user platform for the driver. There are few controls on rider pallet trucks so they are fairly uncomplicated to control and necessitate minimal training.
Drivers can step up onto the platform as opposed to just keeping pace in the rear or on the side of the pallet truck. This means that rider pallet jacks are a better option for transferring pallets over greater spans versus walkie or manual pallet jacks. They are most suitable for regular movement over lengthier ranges and they are used frequently in large warehouse complexes and industrial operations.
The driver platform is practical for shorter spans, but not great for users that work with them throughout the day because they are fairly compact and cause the driver to position themselves in an unnatural stance.
Rider pallet trucks are larger than walkie or manual pallet trucks so crashes can result in rather significant personal injury and property destruction. Rider pallet trucks provide very little defense for the user vs other choices such as center riders.
Center Riders
Center riders are reminiscent of rider pallet trucks but they are more secure for the controller and deliver a more pleasant drive. The driver can stand completely backward or forward rather than solely obliquely.
Additionally, there is minimal hazard for the user because they are shielded by the machine body on two sides, although they're still subjected to the possible threat of the lifting system.
Center riders have a larger turning radius than rider pallet trucks and they are most suitable for operations where the driver travels predominantly in a direct path.
Center riders are frequently employed in general factory operations, distribution center and beverage applications.
Where To Rent Or Buy Pallet Trucks In Las Vegas, Nevada
If you'd like to contact a representative about pallet jacks, please get on touch with Raymond Material Handling Solutions, a Las Vegas material handling equipment supplier serving all of Clark County, including: Las Vegas, North Las Vegas, Henderson, Summerlin, Paradise, Spring Valley, Sunrise Manor, Enterprise, Winchester and Whitney.
Las Vegas, NV
2555 E Washburn Rd
North Las Vegas, NV 89081
(702) 651-6480
7:00 AM - 5:00 PM
Monday - Friday