Vertical Reciprocating Conveyors | Las Vegas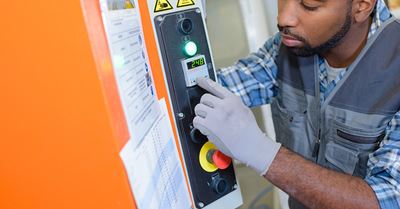 Raymond West supplies warehouse automation equipment such as VRC's.

We are among the largest suppliers of warehouse automation equipment in the state.

Call us today at (800) 675-2500.
What Is a Vertical Reciprocating Conveyor (VRC)?
A VRC is an efficient, economical, convenient means to move goods from one elevation to another. VRCs have use case scenarios in countless industries, including factories, storage facilities, distribution centers, and other multi-level buildings. These adaptable pieces of equipment may be readily incorporated into a building's basement, mezzanine, balcony or any higher story levels.
VRC's are made up of a column, a cage, and a hydraulic or mechanical system. Vertical material lifts can be added just about anywhere inside or outside of a structure. Gates and cages installed around VRC shafts keep workers safe and prevent accidents.
What Are Some Advantages of VRCs?
Safety: Many operations rely on forklifts to move their materials and merchandise from one level to another. Although highly capable machines, forklifts are primarily designed for the horizontal transport of goods. In the name of efficiency, workers may occasionally extend their lift trucks beyond their height limit or transport loads beyond their equipment's capacity rating. When such infractions occur, the chances of a serious accident multiply.
For some vertical product movement, VRCs provide a safe and effective replacement for forklifts. Specifically designed and built for each operation's application requirements, VRCs greatly diminish the chances of human error.
In addition, vertical material lifts are built to move heavier loads on a more frequent basis. These more rapid cycle rates result in less labor hours and lower costs. For companies that have significant vertical lifting demands, vertical reciprocating conveyors can improve worker safety and decrease labor expenses.
Customization: One major advantage of VRCs is the extent to which they can be customized. Because standard elevators are designed to safely move humans, regulations have been put into place that limit the weight capacity, speed and size of these machines. Although such safeguards are necessary and advisable for safely moving humans, they are prohibitive for high volume movement of goods in manufacturing plants, warehouses and distribution centers. Vertical lifts can be freely customized because they are not saddled with the same laws as passenger elevators.
Regulation: VRCs are engineered to move freight only, while standard elevators are meant to move both humans and cargo. Because of this fundamental distinction, VRCs are exempt from the rigorous elevator regulations in many states.
In place of local jurisdiction, VRCs are regulated by their own universal code that is administered by the American Society of Mechanical Engineers (ASME), one of the first standards establishing associations in the country. More specifically, vertical reciprocating conveyors must comply with ASME's Safety Standard for Conveyor and Related Equipment (ASME B20.1-2018). This standard outlines the rules for the construction, installation, operation and maintenance of conveyor systems.
Raymond West Is A Full Service Supplier of Vertical Reciprocating Conveyors
If you're starting the procurement process for a VRC, want questions answered or require engineering support, Raymond West can give you a hand. Our material handling professionals can help design, procure, set up and maintain a system that's right for your business. Give us a call today!
Raymond West's Las Vegas facility serves all of the Las Vegas Valley, including Las Vegas, North Las Vegas, Henderson, Summerlin, Paradise, Spring Valley, Sunrise Manor, Enterprise, Winchester, Whitney and all surrounding areas.
Raymond West | Las Vegas Material Handling Equipment Supplier
2555 E Washburn Rd
North Las Vegas, NV 89081
(702) 651-6480