Warehouse Consulting | Las Vegas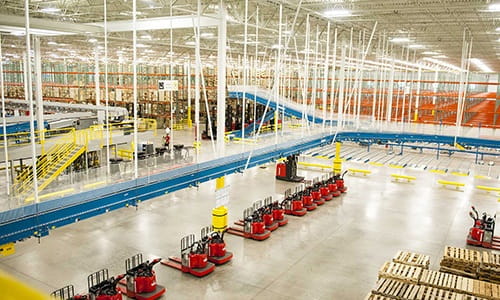 Raymond West is a Las Vegas warehouse consultant and equipment supplier.
We are backed by one of the best warehouse engineering teams in the West.
Call us today at (702) 651-6480
Raymond West provides comprehensive warehouse consulting services. Whether you're constructing a new warehouse, moving to a different building or reconfiguring your current location, we have a dedicated team of consultants to help your organization maximize productivity and efficiency in your storage operations.
Warehouse Design
Raymond West specializes in turnkey solutions for material handling operations and designs and specifies systems for automation, racking, fleet management, WMS, order picking and any other storage or distribution requirements. Beyond systems planning, we also offer physical warehouse plans, including CAD design of automation and racking configurations.
Warehouse Racking Layout
Las Vegas warehouse real estate prices are at an all-time premium, so it's important to take advantage of storage density in every way possible. Our warehouse engineering group can devise tightly packed racking systems, leveraging every inch of your space while still allowing a remarkably productive and high throughput operation.
Warehouse Permitting
Engaging with county or city regulators can quite often be a confusing and frustrating process, particularly when it comes to compliance with seismic, fire sprinkler and other code requirements. Our permitting group is proficient in dealing with local inspectors and can be invaluable in your navigation through the permitting and inspection process.
Automation Engineering
Raymond's engineering team is second to none when it comes to warehouse automation. We design and install conveyor solutions, automated storage and retrieval systems (AS/RS), sophisticated order picking solutions, AGVs and much more.
Mezzanine Design
Leveraging all the cubic space in your warehouse with a mezzanine system can be a smart and cost effective option versus moving or building out new space. Raymond's engineering team can devise an assortment of catwalks, mezzanine systems, landings, stairs, lifts and platforms. In addition, we offer installation and fabrication services for any type of industrial platform or mezzanine.
Warehouse Moves
Organizing and completing a warehouse relocation is often an enormous and nerve-wracking undertaking. If you're planning a relocation, sit down with Raymond's warehouse consulting team to map out logistics, timing and project management.
Warehouse Racking Installation and Removal
When you add racking, Raymond's installation group can guarantee that the task is done properly, on-time and in accordance with all local regulations. If you're removing or replacing racks, we can also help with tear-down and disposition of your old racking system.
Racking Inspection
Per the recommendations of the Rack Manufacturers Institute, all racks need to be inspected once a year at the very least. More regular inspections are advisable, and are a must following a lift truck impact or other occurrence that could impair the structural integrity of your pallet racks. Raymond West can manage scheduled or unscheduled inspections, supply documentation and provide guidance on remediation and repair.
Las Vegas Warehouse Consultants Near Me
If you'd like to speak to a warehouse consultant, call Raymond West today at (702) 651-6480.
Raymond West
2555 E. Washburn Rd.
North Las Vegas, Nevada 89081
Phone: 702-651-6480