Pallet Rack Installation | Stockton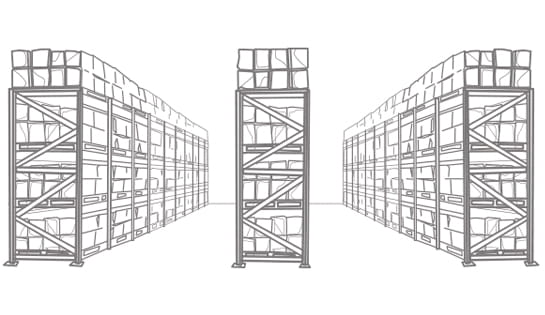 Raymond West is a Stockton area supplier of new and used pallet racking.

We offer installation, tear down and relocation services.

Call us today at (800) 675-2500
Pallet racking makes full use of valuable warehouse space, and a well-designed racking plan is an essential component of a profitable warehouse. Racking systems need to be designed and set up by competent specialists who are familiar with fire suppression, seismic design, permit processes, local codes and ordinances, and warehouse safety.
Raymond West specializes in material handling solutions and warehouse storage systems, and pallet rack installation is just one of the services we offer to help you take full advantage of your racking systems investment. Our warehouse rack installation service eliminates the stress of racking installation and ensures that your system is installed correctly and efficiently.
Pallet Rack Tear Down & Moving
The proper dismantling of equipment is equally as important as the proper installation. Our customers sometimes state that they plan to dismantle their pallet racking using in-house workers, and though this may seem like a sound idea at first, it is quite often a misstep. At the point you want to reassemble or sell the equipment, you may discover that if unqualified workers tore it down, tracking down the right pieces or rebuilding compromised material can be extremely challenging.
If a storage system must be relocated and reinstalled, our expert technicians will properly label it. They'll subsequently pack and store it properly to prevent damage. Our team will load it onto trucks for reliable transport whether you're relocating to a new building across town or on the other side of the country. Our technicians are trained to relocate your racking and equipment in a secure manner, preventing damage and enabling easy re-installation.
Our crews will show up with all the tools and materials they need, complete the project quickly and efficiently, and will clean up after themselves. Raymond West's experience and integrated services strategy allow a turnkey disassembly and relocation service so that you can focus on running your business.
Pallet Rack Inspection
Pallet racks are carefully engineered structures that are built to withstand considerable weight. The integrity of those systems can be jeopardized through daily abuse, improper maintenance, the addition of new rack, or improper modifications. For that reason it's critical to have your pallet racks checked routinely. It can help prevent rack failure, product damage, and ,in the worst-case scenario, employee injury or death.
Raymond West maintains a dedicated rack repair and safety team. Our knowledge of rack safety best practices and ANSI/RMI rack safety standards makes it possible for us to analyze a storage system, identify possible dangers, and make recommendations to help you strengthen asset protection and employee safety.
Pallet Rack Repair
While it's sometimes better to replace compromised racks, many times they can be repaired in place. Basic repair can often be accomplished swiftly with almost no disruption to your day-to-day operations. For ordinary repairs, the base section of rack is removed and replaced with a more robust upright.
Pallet Rack Companies Near Me
While you may have many options for pallet racking suppliers in the state, Raymond West is among the largest and most capable material handling dealers in the western United States. If you need pallet rack installation, tear down, relocation, inspection or repair, give us a call today!
Raymond West's Stockton facility serves much of the northern Central Valley, including Stockton, Lathrop, Lodi, Tracy, Modesto, and Merced.
Raymond West | Stockton Material Handling Equipment Supplier
19107 Christopher Way
Lathrop, CA 95330
(800) 675-2500