Horizontal Carousel Systems | Stockton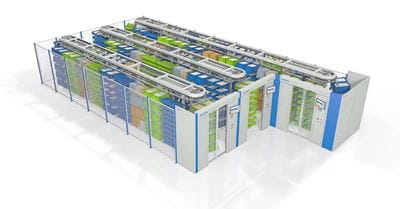 Raymond West supplies warehouse automation equipment such as horizontal carousels.

We are among the largest suppliers of warehouse automation equipment in the state.

Call us today at (800) 675-2500.
A horizontal carousel system is a sort of automated storage and retrieval system (ASRS) implemented in warehouses and distribution centers to handle retrieval and storage of materials efficiently. It is comprised of a sequence of bins or trays affixed to a rotating carousel, and pick components are sent to the retrieval position, in a "good-to-person" fashion.
The Advantages Of Horizontal Carousels
A primary benefit of a horizontal carousel system is its tendency to maximize storage area. Through using a turning platform, a horizontal carousel enables the storage of a vast number of components in a smaller floor area, empowering distribution centers and warehouses to take advantage of the space they have more effectively. This can be particularly helpful in cases where floor space is limited or costly.
A second plus of horizontal carousel systems is their accuracy and efficiency. Seeing as the picking device can swiftly and conveniently find the desired bin, the carousel can collect items quicker than an employee. This is able to help material handling facilities cut back the time it takes to fill orders, which leads to increased performance and customer gratification.
In addition to these positives, horizontal carousel systems are able, also, to help material handling facilities lighten their employment costs. Since the system is automated, it can operate 24/7 without requiring shifts or breaks. This can help lessen the demand to employ laborers, which is often highly noteworthy for warehouses and distribution centers that must complete orders on a all day schedule.
Horizontal Carousel Types
There are a few different sorts of horizontal carousel systems out there, each having its own individual features and conveniences. A few of the more frequently used types are:
Standard Horizontal Carousel: These "typical" horizontal conveyors are usually arranged together into a workstation or pod and employed for batch picking needs. The amount of horizontal conveyors required for each workstation depends on throughput expectations. Items can be collected by either a human staff member or a computerized arm.
Put Horizontal Carousel: This variety of carousel works on the same principle as a put wall, but in place of a wall it contains a carousel of bins or trays. It is often used for consolidation or within an operation.
Robotic Horizontal Carousel: Fully robotic carousels spin the requested bin or tray to an inserter/extractor, which picks the applicable tray on demand. A conveyor delivers the bin to the next destination within the system.
When considering a horizontal carousel system for a material handling facility, it's imperative to carefully analyze the unique demands of the facility. Some factors to evaluate contain the footprint and floor plan of the facility, the variety of items being kept, and the quantity of orders requiring fulfillment.
In addition to the initial price of the horizontal carousel, warehouse executives should also evaluate continuing maintenance and repair expenses. It's important to decide on a system that is reliable and durable, as downtime can be costly in both lost productivity and patron contentment.
Contact A Warehouse Automation Expert
Overall, horizontal carousel systems are often an advantageous purchase for warehouses and distribution centers looking to elevate productivity and lessen expenditures. By automating the storage and retrieval of wares, these carousels are able to help businesses improve supply, reduce labor expenses, and boost customer satisfaction.
Raymond West's Stockton facility serves much of the northern Central Valley, including Stockton, Lathrop, Lodi, Tracy, Modesto, and Merced.
Raymond West | Stockton Material Handling Equipment Supplier
19107 Christopher Way
Lathrop, CA 95330
(800) 675-2500