Vertical Buffer Modules | Stockton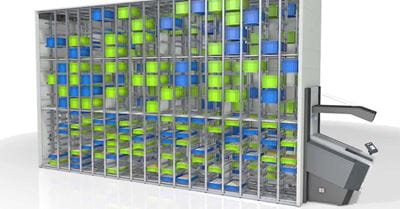 Raymond West supplies warehouse automation equipment such as VBM's.

We are among the largest suppliers of warehouse automation equipment in the state.

Call us today at (800) 675-2500.
Vertical buffer modules (VBMs) are a kind of material handling equipment frequently used in warehouses to store and retrieve products and materials. These modules are designed to maximize storage space by utilizing vertical clearance, enabling warehouses to store more items in a smaller footprint.
VBMs consist of a series of storage compartments that are arranged vertically, with each bin able to hold a certain weight. The bins are placed and removed by a system of vertically-moving arms, which can travel in both vertical and horizontal directions through the center of the unit. The mast is operated through a computerized automation system that retrieves bins from predetermined positions inside the module.
Increase Storage Density
There are several benefits to using vertical buffer modules in a warehouse setting. First and foremost, they enable the efficient use of space by utilizing the vertical dimension. This can be particularly useful in warehouses that have smaller floor plans, as it allows them to store more items in the same amount of space.
Boost Pick Speed
Vertical buffer modules also offer an expedited selection process, unlike traditional shelving systems where workers must manually search for items from storage racks, which may be slow and ineffective. On the other hand, with VBMs, materials can be obtained swiftly in a "goods-to-person" process, greatly lessening the resources needed to gather products.
Improve Safety In Your Warehouse
Furthermore, VBMs can improve safety in the warehouse. Typical shelving systems sometimes necessitate employees to climb up ladders or use other equipment to reach items on upper shelves, which may lead to accidents and additional health risks. With VBMs, workers can obtain items while at the ground level, reducing the risk of potential accidents.
Learn More About Vertical Buffer Modules
Collectively, vertical buffer modules can provide value to any warehouse, offering improved pick speed, efficient storage, and increased safety. By utilizing the upward expansion space, warehouses can optimize their storage capabilities, decreasing the required floor space and utilizing available space. To learn more about the advantages of VBMs, please get in touch with an automation professional at Raymond West right away!
Raymond West's Stockton facility serves much of the northern Central Valley, including Stockton, Lathrop, Lodi, Tracy, Modesto, and Merced.
Raymond West | Stockton Material Handling Equipment Supplier
19107 Christopher Way
Lathrop, CA 95330
(800) 675-2500