Raymond High Capacity Reach Trucks Are The Best In The Business. Here's The Proof.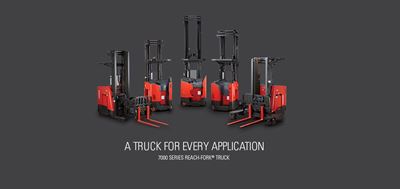 In an independent performance study, Raymond's new 7530 High Capacity Reach Fork Truck was put to the test against its main competition, the Crown RMD 6092. The results speak for themselves.

Download The Study
As e-commerce proliferates, it's putting more and more pressure on warehouses and distribution centers to move more products at faster speeds. This means that taller pallets and heavier loads are required to keep up with these higher throughput demands.
High volume operations are turning to high capacity reach trucks. They're perfect for tall storage, heavy lifting environments. Last April, Raymond launched the 7530 High Capacity Reach Fork Truck to better serve this market segment. The 7530 is capable of lifting 4,500 pounds and reaches an industry leading height of 542".
The Study
In mid-2018, the Raymond Corporation commissioned a study led by PosiCharge, an independent organization that specializes in industrial electric vehicle charging. The test was monitored and overseen by TUV Rheinland, an international testing, auditing and certification organization.
The trucks in the study were both 3,200 lb rated deep-reach, AC drive, cushion tire units. They used identical EnerSys 36 V, 3,000 lb batteries.
The objective of the study was to compare productivity. The gold standard of productivity for a truck is the amount of work it can complete in a single battery charge cycle. The Raymond and the Crown reach trucks were each time tested performing identical load handling tasks on a closed 100' course under identical conditions.
To ensure that operator skill was not a factor, 3 different drivers tested both trucks, running the course 16 times in the Raymond truck and 16 times in the Crown truck. Each truck ran the course a total of 48 times during the test (16 cycles x 3 drivers).
The load used in the test was a 2,000 pound weight strapped to a pallet. It was lifted to a height of 480 inches and then lowered for each test cycle. Electricity consumption and regenerated energy were measured at the end of each trial using a PosiCharge 1000 Amp E-meter.
The Conclusion
PosiCharge's analysis of the the battery data showed that the Raymond 7530 moved pallets 15% faster on the same charge compared to the Crown RMD 6095S-32. What does that mean to you? Reduced labor costs, greater efficiency, and higher throughput.
A 15% gain in productivity over the course of a year is a substantial number. Multiply that by the lifetime of your Raymond truck and you have an outstanding investment.
To read the specific methodology and details of the study, you can download the white paper here.
FEATURED PRODUCT
Raymond 7530 High Capacity Reach-Fork Truck
The Raymond 7530 High Capacity Reach-Fork truck offers the highest lift heights, heaviest capacities and fastest cycle times, providing greater capacity retention and improved cube utilization. 4,500 capacity, capable of lifting 2,000 lbs to 505"