19 Things to Consider Before Talking to an AGV Supplier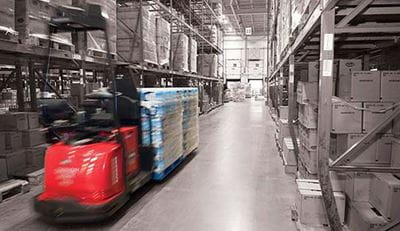 Are you thinking about making the jump to Automated Guided Vehicle (AGV) systems in your warehouse or distribution center? Here are a few things you should consider before engaging an AGV consultant or vendor. Raymond West is here to help.
Installing an Automated Guided Vehicle (AGV) system to automate repetitive material handling tasks in your warehouse is a substantial investment. Which type of AGV is right for your business and circumstances? The answer is: it's complicated. Most warehouse operators end up leveraging the expertise of consultants or vendors to make a final determination. Raymond West is here to help.
Before you engage outside parties, you may want to put together a basic requirements document that you can share both internally with your management and externally with your potential vendors. A good requirements document will address the following items:
Transportation Considerations:
Identify and list all the material handling systems you have in place today. Forklifts, pallet trucks, conveyors, AS/RS and any other systems.

What are your working hours? Are you a multi-shift operation?

How many transports are you doing per hour on average? What about during your peak times?

What types of loads are you moving? Pallet, bins, cartons, rolls? How far are they moved? How much do they weigh?
Systems Integration Considerations:
List all of the systems you use in the warehouse on a day-to-day basis, including WMS, ERP, labor management, telematics, and any others.

Where are your servers and what type of wireless network do you have in place?

What are your project commissioning requirements with respect to IT systems?
Project Consideration
What types of applications are you considering AGVs for? What parts of the facility would AGVs be deployed in?

Do you have site drawings? If so, include them in the document.

Are there any special site conditions? Do you have cold storage space? Are there outdoor runs between buildings?

Who are the key contacts from your company that will be involved in the project? What are their roles and responsibilities?

Do you have a written narrative that describes your operation at an industry and company level?
Performance Expectations:
· How quickly do you want to implement an AGV system?
· Do you have any ROI constraints, (e.g. "this implementation must pay for itself in 3 years and generate a x.x% return going forward to be considered).
· What type of references will you need from vendors?
Beyond the general items above, you may also want to add some AGV specifics. Here are a few items to consider:
Accuracy

– how accurate does your AGV system need to be? Is a 6-10 inch tolerance acceptable, or does the system need to be accurate within a fraction of an inch?

Flexibility

– what happens to your AGV guidance system as you need to make modifications, moves, or changes? Can you afford to shut the system down during modifications, or can you tolerate interruptions?

Repeatability

– does your AGV system need to operate inside, outside or both? If it must travel between buildings, what happens to your sensors and navigation during rain, snow, sunshine, or fog? What is your target goal for repeatability?

Environment

– do you have any unique environmental constraints?

For instance, if you are utilizing block-stacking in your warehouse, that may limit navigation targets like lasers for certain AGV systems. Are there temperatures extreme? Many AGV electronics are compromised above 115-120 degrees. Can you think of any other constraints unique to your warehouse?
By thoroughly documenting your project's requirements and constraints before approaching consultants and vendors, you can often avoid weeks or even months of meetings and emails.
To speak with an AGV expert, call Raymond West today!