How To Avoid 5 Costly Conveyor System Mistakes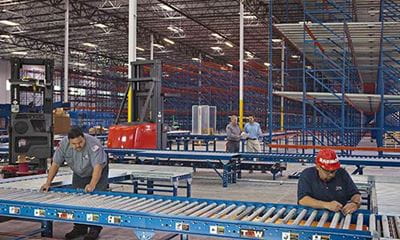 Companies depend on their conveyor systems to keep their operation running. That's why it is so important to take steps to prevent a prolonged outage. Here's some ways to avoid some costly mistakes.
Conveyor systems are the backbone of many operations, doing their job day-in and day-out. As with many reliable systems, they are often taken for granted and more or less ignored.
Although many operations are completely dependent on their conveyor systems, few take the time or the effort to prepare for (or ideally prevent) the worst—a prolonged outage. When the system goes down, chaos ensues. Employees are idle, shipments are late, customers are angry, and serious costs begin to mount.
A multi-day conveyor outage can be catastrophic to a company's bottom line. Here are a few of the mistakes that many businesses make when it comes to conveyor systems, and how you can avoid them:
Start with safety. Although most warehouse operations go to great lengths to comply with OSHA standards, many of those practices are related to processes and procedures. Sometimes equipment safety is overlooked or compromised. This is especially true when operations are under pressure to achieve production goals or cost reduction measures. When corners get cut, it's often equipment safety that suffers.

A simple safety inspection routine can be invaluable. Regularly checking for basic things like missing chain guards or unattached pans under belt conveyors can prevent accidents, injuries, fines, worker's comp claims, lawsuits, and OSHA shutdowns.


Recurring maintenance inspections are crucial. In many operations, lift trucks and other production equipment are on regular inspection and maintenance schedules while conveyors only get attention when there's a problem.

A little bit of vigilance can make all the difference in preventing breakdowns. Even things that seem benign can be signs of maintenance issues. For instance, any unusual noises like squeaks can mean that something is out of adjustment. Small shavings on the floor below a belt are sign that the belt is likely out of alignment and is wearing unnecessarily.

Looking for telltale signs like these, and training your employees to do the same can prevent major outages in the future.
Monitor your systems. Overheated motors or reducers mean that something is causing an overload in the system. For example, motor temperature spikes could be a result of a conveyor being loaded with items that it was not designed for.

In the short term, replacing a motor can result in significant outage time because very few organizations maintain a spare. Keeping an eye on temperatures can not only prevent a burned out motor, it can intervene in longer term problems that arise from overloading your conveyors.


Keep common parts on hand. Having your line down for a day while you wait for a simple component can cost a lot more than maintaining a stock of commonly used parts. Spare motors, bearings, couplings for line shafts, photo eyes and other parts can save you hours of down time.

Put together a list of the most commonly replaced, mission critical, or heavily used parts in your conveyor systems and proactively order them. When the time comes, you'll be glad you did!


Don't put off any maintenance...
ever. More often than not, people will ignore problems or develop workarounds until those problems become critical. For example, a forklift may hit a conveyor leg. To keep things running, your employees push the leg back into place, but the conveyor is now hopelessly out of alignment.

Instead of paying a small bill to have a technician come out and readjust the conveyor, you're looking at massive repair bills down the road when your conveyor system fails prematurely because of excessive wear and tear.