Improve Your Warehouse Profitability With Part Picking Automation: Part 1 - Labor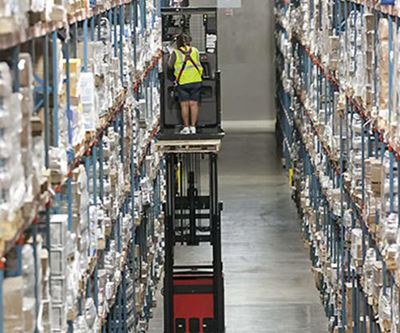 This five part series looks at each of the ways that automating your picking processes can improve your productivity and reduce costs.
Picking entails quite a bit more than selecting a product from a static shelf or rack. In an average manual D.C., picking is an antiquated process where a worker gets an actual paper list of instructions specifying what to pick and where. They travel to the identified storage location, look at their list to figure out the the quantity of items needed from that pick face, pick the products, check the item off their paper list, then drop the items off for packing.
Travel around a traditional, manual fulfillment warehouse can take from 60-65% of an average picker's daily hours. Because distribution centers are packed with pallets, cases and pieces, order fulfillment is frequently acknowledged as, "the most labor-intensive and costly activity for almost every warehouse, where the cost of order picking is estimated to be as much as 55% of the total warehouse operating expense."
The opposite of this approach is the "good to person" method, where good are presented to a stationary operator. This eliminates wasted time spent walking around a facility.
A Goods to Person configuration can be implemented using a variety of automated equipment, including horizontal carousels, vertical carousels and vertical lift modules (VLMs).
Most of these automated solutions are integrated with warehouse management systems (WMS) that provide indicator lights, illuminating an item's location and the pick quantity needed. This significantly reduces time spent looking for an individual stock keeping unit (SKU) at the pick face. Less time spent looking for individual SKUs means more time spent picking, and greatly increased productivity.
Additionally, because these automated picking solutions are tied into both inventory and order management via the WMS, all picks are sequenced by a computer, meaning the module is optimized to minimize movement between pick items. The result is that all products can be picked in a single rotation of the module's storage trays or bins, decreasing time spent picking.
Automation can optimize an existing work force, boosting your operation's productivity from between 200% to 600%, depending on your implementation. Because these technologies allow a single worker to take on the picking assignments up to 3 people, as many as two-thirds of a warehouse labor team can be reassigned to other, non-picking jobs with no appreciable loss in output. This can be highly beneficial when labor is scarce or when labor cost reduction is mandatory.
Warehouse operators that implement automated solutions often maintain their existing labor force and are able to accommodate increased SKU quantities and order demands.
Next Up: Improve Your Warehouse Profitability With Picking Automation: Part 2 – Floor Space
Want to learn more about picking solution?
Click Here
.