Improve Your Warehouse Profitability With Part Picking Automation: Part 2 – Floor Space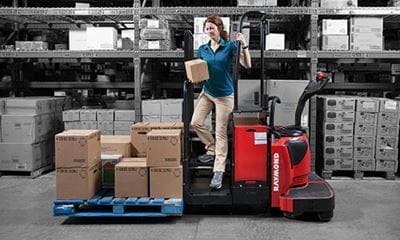 This five part series looks at each of the ways that automating your picking processes can improve your productivity and reduce costs.
Besides reducing labor costs, automated storage equipment offers another huge benefit: it makes more floor space available in your facility by using the vertical space overhead to store items. This eliminates the structural footprint of pallet rack and shelving and, perhaps more importantly, the aisles required to access racks and shelves. In addition, storage density increases with automation through the use of tightly configured trays, bins, drawers, totes and other specialty holders. These units organize and separate products while maximizing the use of space on each level.
Automated storage solutions are also tightly integrated with inventory management software, meaning that a computer decides where each product gets stored in the system based on its size, weight and quantity. This allows for very efficient storage, as the system instantly finds the best way to maximize storage every time the storage module is replenished.
Additionally, the trays or bins within a unit are stored in a tightly packed configuration. In other words, there is no need to leave room for a human or forklift to maneuver goods on each level because the levels are all compressed until they are selected by an operator. This eliminates the empty reach-in space required for shelving or racking. The equivalent amount of inventory held in 120 bays of static shelving can be condensed as shown below:
Given current warehouse real estate costs in the Western United States, the value of recovered floor space should be fairly obvious.
In most operations, newly available space is used to store more of the same SKUs or an expanded inventory of new SKUs.
However, in light of recent e-commerce trends, recovered floor space can also be repurposed for other more profitable activities. For instance, the area could be used for kitting related items, customizing certain products, or adding quality control processes.
Some other value added services you may want to consider for your customers:
Repackaging
Pricing / Labeling
WIP Storage
Pack & hold
Customer configured pallets
Warehouse costs have skyrocketed in California and other western states in recent years. Storage automation can provide a rapid return on your investment, while keeping your operation highly profitable and adaptable as the industry evolves.
Next Up: Improve Your Warehouse Profitability With Picking Automation: Part 3 – Picking Speed
Want to learn more about picking solutions? Click Here.