Extend The Capabilities Of Your Forklift With Attachments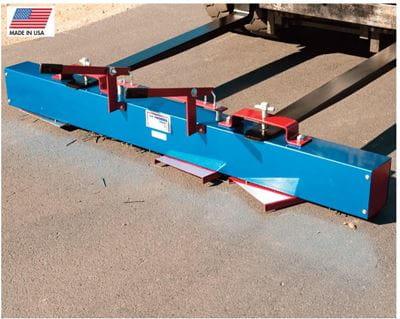 Your forklift is not just for lifting pallets! It's a versatile piece of equipment that can be used for many types of tasks with the right accessories. There are numerous specialty tools available that can extend the functionality of your lift truck and help you get even more out of your equipment investment.
Let's face it, not all products come on pallets. In a warehouse you might have long rolls of carpet, 55 gallon drums of chemicals, bulk materials stored in bins or totes, lengths of pipe or tubing, furniture and many other non-uniformly shaped types of items.
There are special forklift attachments for each of the items listed above, plus a whole lot more. While many attachments are widely used and well known, others are not. Here are just a few of the attachments that are available:
Carpet Poles: Rolled carpets can be heavy, bulky and difficult to deal with. In many instances, they may also be stored high up on racks, making them difficult for workers to access safely. A carpet pole allows forklift operators to insert a pole into the middle of a rolled carpet, enabling easy raising, lowering and transport.
Drum Handlers: These attachments are designed to grip the outside of a drum cylinder, and make handling heavy steel, plastic or fiber drums an easy task. Most are configured to handle one or two drums at a time.
Lift Jibs: Lift Jibs allow for flexible lifting of long, bulky loads, such as pipes, tubes, and bar stock. There are even lift jibs for very bulky and heavy items like stone slabs. The forklift lift jib slides over both forks and is attached to the forklift with a safety chain.Adjustable hooks are positioned along the jib, allowing the operator to move items of many different lengths and sizes.
Self-Dumping Hoppers: These attachments enable you to collect, store and move bulk materials in an open topped hopper.Forks slide into the bottom of the hopper and the forklift operator lifts it and transports it to its destination. To dump the hopper, the operator engages a latch on the unit that releases the dump mechanism.
Forklift Man Cages: Safety man cages or man baskets are designed to lift workers in the air to perform work on an elevated platform.
Trailer Movers: These attachments offer a convenient way of moving towable trailers around a facility without hooking up a tow vehicle.The attachment has a standard ball trailer hitch and a safety chain.Once the trailer is attached, trailers can be maneuvered easily and in tighter spaces than with most tow vehicles.
Paper Roll Clamps: These are used frequently in industries such as paper manufacturing, newspaper printing and tissue manufacturing. They can be used for all different sizes of paper rolls, and can be ordered with automatic pressure controls and different gripper pads that prevent damage to the paper.
Slip Sheeters: These attachments (sometimes called a push/pull) are used for the handling loads that use slip sheets instead of pallets. They are often used for bagged products like grains or cement, and food products like dairy, fruit and packaged food.Slip sheets are used in place of pallets, saving space and eliminating the cost of pallets.The attachment pushes to unload and pulls to load using slip sheets.
Carton Clamps: Carton clamps are used to transport large square or rectangular good that don't require a pallet like appliances and electronics. They are also a good option for handling fragile goods when equipped with an automatic pressure sensing system.
Single-Double Pallet Handlers: These attachments allow you to move two pallets side by side with four forks. The forks can also be brought together into a two fork configuration to be used in a standard forklift configuration.
Forklift Extensions: Extensions allow you to handle larger or non-uniformly shaped loads with better stability. The operator simply slides the forks into the extensions and locks them in place, giving them longer forks to support bulky loads.
Fork Positioners: these attachments are very common. They allow forks to be moved closer or further away from each other hydraulically. This enables faster and more effective handling of different size pallets and objects.
Load Backrests: Steel load backrests are designed to prevent the load from falling toward the forklift operator. Loads rest against a square, flat surface that makes handling safer.
Talk To An Expert
Many industries have attachments that are unique to their specific requirements. For example, the wine industry has narrow aisle barrel handling attachments, grape bin dumpers and other specialized attachment for forklifts. If you have atypical load handling requirements, talk to a Raymond West expert to find out if there is an attachment that might fit your needs.