Modular Offices Are Not Just For Office Space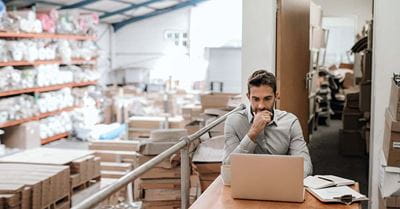 Modular office systems can add noise shielded, protected, climate controlled space to just about any industrial building.
In warehouses, distribution centers and production facilities throughout the country, modular office spaces are employed to allow desk workers to collocate in spaces that are primarily meant for industrial use. These versatile systems can add noise shielded, protected, climate controlled space to just about any industrial building, and can often be set up in a matter of hours.
Modular offices have significant advantages over building out permanent structures within your facility. Because they're constructed using prefab components, they're far more flexible than permanent construction and can quickly be expanded, moved, reconfigured or removed.
These structures can also qualify for accelerated depreciation under the Section 179 deduction, allowing for a 100% write-off during the purchase year. This is an enormous tax advantage vs a typical depreciation schedule. Moreover, modular construction can be half the cost of permanent construction.
Although the term "modular office" suggests that these structures are meant only to be used as office space, in reality they are used for a wide variety of purposes. If you're considering a warehouse acquisition, move or reconfiguration, here are some potential use scenarios for modular construction.
Employee Break Rooms & Cafeterias
Having a comfortable, climate controlled, well-lit area for your employees to relax and recharge during breaks and lunch hours can boost morale and ensure that your workforce remains happy and productive.
Shipping and Receiving Offices
Many facilities require shipping and receiving centers. Modular offices are ideal for enclosing these areas and segregating them from the production floor or warehouse. They can also be expanded or reduced as demand fluctuates.
Conference Rooms
Modular conference rooms are ideal for employee training, meetings, and client reception areas. Nearly every business requires a common meeting area and adding a modular conference room can make a huge difference in your ability to conduct day-to-day business.
Electronic Equipment Room Enclosures
Production facilities and warehouses can be hostile environments for onsite computers, servers, routers and switching equipment. To keep sensitive equipment secure in dusty or dirty conditions, computer room enclosures can provide just the right amount of protection and security, while keeping costs in check.
Laboratories
Many manufacturing, engineering, and scientific centers must have separate spaces, or laboratories, for specific functions. A modular office can easily be added to provide the infrastructure required to build a fully operational lab.
Powder Coating Booths
In almost all powder spraying operations, a significant amount of powder overspray is produced. Using a modular powder coating booth confines overspray in a partially enclosed area within an exterior portable building or portable and modular enclosure.
Sound, Paint and Dust Enclosures
Portable enclosure systems can protect against escaping contaminants like paint or dust, and modular wall construction can soundproof semi-permanent/portable structures to isolate excessively loud equipment from employees.
Modular Offices Near Me
If you're in the market for a modular office system for your warehouse or other industrial space, give us a call today. We offer a full range of mezzanine, catwalk and modular systems suitable for almost any environment.