Changing the training game with virtual reality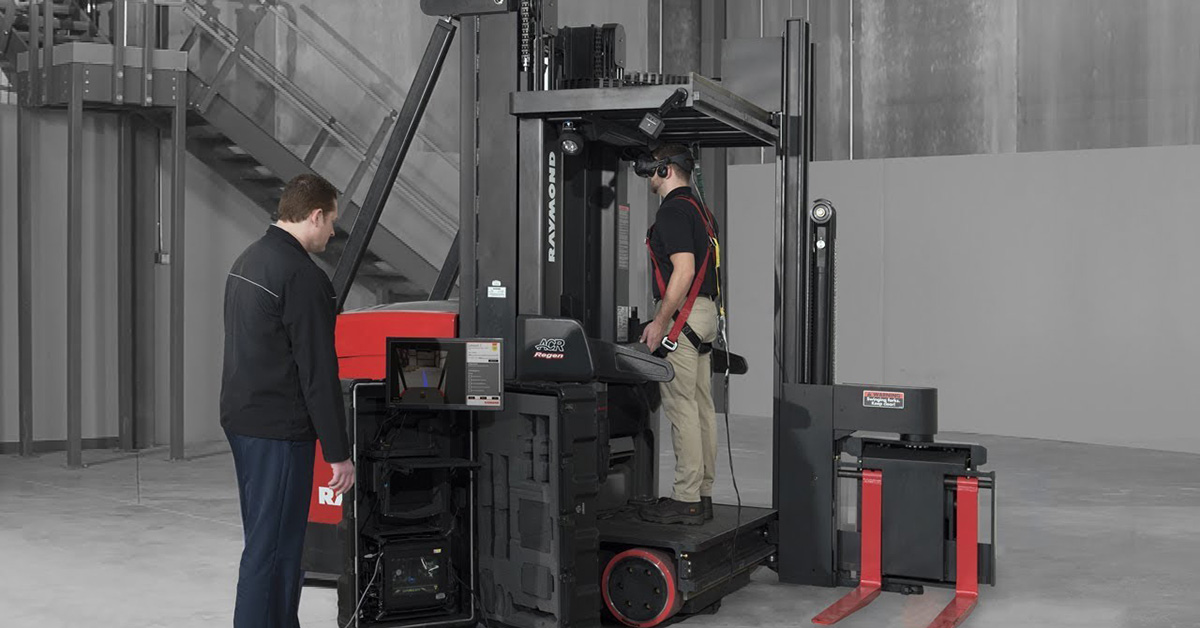 To address critical labor shortages, manufacturers are collaborating with technology companies to create virtual reality (VR) simulators that can be used as educational tools to help attract new generations.
The manufacturing industry is vital to the current and future economic prosperity of our country. However, today's businesses face serious challenges due to a labor shortage and a skills gap. According to the Manufacturing Institute and Deloitte, nearly 3.5 million manufacturing jobs will be needed over the next decade, but two million of those jobs will go unfilled due to a skills gap.
Plant managers are struggling to find new ways to attract talent and drive further innovation within their organizations as the industry suffers from a labor shortage. To address these issues, manufacturers are collaborating with technology companies to create virtual reality (VR) simulators that can be used as educational tools to help attract new generations, better educate new and existing forklift operators, and increase employee retention.
Operators benefit from hands-on, interactive training
In a simulated environment, a virtual-reality instructional tool allows operators to learn on the actual equipment or controls that they will be using on the floor. The tool offers advanced, hands-on training to help operators improve their skills and gain confidence. The learning tool allows an instructor to accompany an operator as he or she progresses through modules of guided lessons that grow in complexity and build on principles learned in previous lessons, ensuring a consistent experience and reinforcing desired behaviors. During the lessons, the instructor can keep track of the operator's progress and provide immediate feedback.
Potential candidates with no prior warehouse experience can use this progressive coaching tool to learn the skills they'll need to succeed. The software uses scenarios that simulate an interference on the warehouse floor as the operator progresses through the modules to better prepare them for the unexpected. This allows operators to become familiar with operating conditions and work through them in a controlled environment rather than experiencing them for the first time on the warehouse floor. These types of experiences can provide one-on-one coaching, which can help to prevent product and equipment damage in the future.
Increased productivity and efficiency
A warehouse with more engaging and efficient instruction will be more productive. The goal of instructional VR technology is to boost throughput by making operators more productive. Its data-driven approach can quickly identify an operator's weak areas, allowing administrators to know who and how to target for additional training. The software in the tool also quickly identifies an employee's skills and abilities, allowing instruction to be tailored to their specific needs.
These insights, along with additional instructor feedback, can help operators improve their proficiency and increase the efficiency of their operations. The setup and takedown of a VR simulator takes minutes, making training sessions convenient and efficient.
Employee retention and worth
Although one of the main advantages of a VR educational tool is that it can be used to quickly train new operators, it can also be used to train existing plant operators. Investing in innovative technology to help existing employees further their education demonstrates that a company values its employees as valuable assets. Providing employees with the opportunity to learn through innovative workplace tools and recognizing a company's commitment to its employees can help them stay in a job longer.
Manufacturing companies are focusing on closing the labor gap and preparing for the inevitable retirement of baby boomers. Manufacturing companies that use virtual reality as a learning tool have a unique opportunity to recruit new employees, including Millennials and digitally savvy candidates who might not have considered a career in manufacturing otherwise. Employers can take advantage of this technology to educate employees in ways that they understand and enjoy, resulting in increased plant efficiency and higher employee retention rates.