What Kind of Industrial Shelving Do I Need?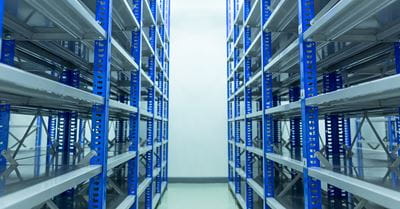 Beyond pallet rack, there are many different types of shelving for storage and industrial applications.
While most people know what pallet racking is, not everyone is familiar with other types of industrial shelving. There are many industrial applications where cartons, individual items, documents, parts or bins must be stored, as opposed to entire pallets of goods.
For non-palletized items, forklift access is generally not a requirement, meaning that shelving systems can be smaller and have much narrower aisles. There are several different styles of industrial shelving, serving a variety of purposes.
Bulk Rack Shelving
For heavier items that need to be hand picked, bulk rack is a great solution. Heavier-duty than rivet shelving, bulk rack can be accessed from both sides and is ideal for a variety of industrial storage needs.
Much like pallet rack, bulk rack is made up of welded steel uprights and beams, but shelf depths are generally smaller and uprights are not as robust. Wire, steel and particle board decking options are available.
These racks are highly configurable. Shelf heights are easily adjusted, and assembly is a snap. Bulk rack can be added on the floor level or can be paired with stairs and catwalks to create multi-level storage solutions.
Rivet Shelving
Rivet rack, also known as boltless shelving, is a great solution for a variety of storage applications since it is durable, affordable, and simple to install. Although not as high capacity as bulk rack, the solid steel frame architecture of rivet shelving makes it a good candidate for industrial, warehouse, or other storage uses since it can support quite a bit of weight.
Boltless shelving systems use a simple single or double rivet connection that locks in place to create extremely stable shelving units. Decking options include particle board, plywood, solid steel or wire.
Like bulk rack, rivet rack is meant for hand stacking, not forklift stacking. These types of systems can be accessed from all sides since there are no stabilizing panels or braces required. Rivet shelving can be easily reconfigured to adapt to different shelf height requirements.
Clip Shelving
Steel clip shelving is one of the most popular types of storage in industrial and commercial settings. Compression clips can be easily adjusted in one inch increments, meaning that clip shelving systems are infinitely adjustable and suitable for storage of goods of any size. Although some tools are required for setting up a clip shelving system, it is very simple and does not require skilled labor.
These types of systems typically have side and back bracing. Shelving units can be left completely open, but they are often enclosed in applications where stored items require more protection. Many times these shelves are also equipped with plastic bins for storage of parts and other small items.
Which Type Of Industrial Shelving Should I Use?
When planning out your shelving design and layout, you should consider quite a few factors before making any decisions. Not only will an assessment of your space and needs inform you of how to set up your shelving, but it can also help you determine what type of shelving is best for your facility.
Weight: How much weight will your shelves need to support? For items like steel parts, dies, or other heavy items, you may want to consider a heavy duty option like bulk rack. For lighter items rivet or clip shelving may suffice.

Size: Do you have tall items that may require larger shelf openings? Is there a lot of variability in the size of items that come through your facility? If so, you may want to use something that's easily adjustable like clip shelving.
Aisles: How much aisle space can you allow? If you need to access items from both sides, you may want to consider open options like rivet shelving.
Talk To A Storage Expert
If you have questions about industrial shelving or would like assistance with layout and configuration, contact a storage expert at Raymond West today!