Raymond Sideloaders: The Right Equipment For Long Loads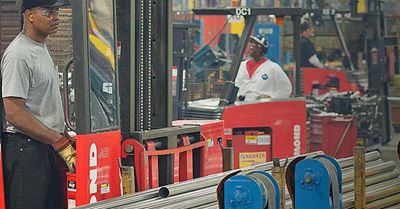 Raymond offers two different sideloaders, depending on your requirements and the configuration of your storage operation
For most businesses, nearly everything that can go in a warehouse is palletized. There are, however, a few industries where long or bulky materials are the norm, and that can present unique storage and handling challenges. Here are just a few examples:
Steel / Metal Fabrication: bar stock, sheet metal, metal rolls
Building Materials: lumber, plywood / OSB, gypsum board, material rolls
Household Goods: carpeting, countertop slabs, flooring, lamintes
Plumbing: piping, tubing
Raymond 9000 Series Sideloaders
Raymond Sideloaders are specially designed to handle long or bulky products with features such as adjustable forks, auxiliary carriage forks, rail guidance options for narrow aisle configurations, along with other features that set Raymond apart:
Two wheels that steer independently allow for sideways travel down narrow aisles.
Precision fork tilt enables better load control, meaning less product and rack damage.
Mast and carriage tilt provide even more load control.
PowerSteer from Raymond significantly reduces operator effort when it comes to steering, and can reduce fatigue and boost productivity.
A single knob controls both lift and lower functions, allowing complete and variable speed control.
Raymond offers two different sideloaders, depending on your requirements and the configuration of your storage operation:
Raymond 9300: Equipped with a 48 volt battery, this workhorse has a capacity of up to 6,000 lbs and can reach heights of 30 feet
Raymond 9400: The heavier duty option to its 9300 cousin, the 9400 can lift up to 12,000 lbs, reaching heights of 367 inches.
Talk To A Material Handling Expert
If you have questions about Raymond's Sideloader trucks, cantilever racks for storing long/bulky products or any other material handling options, get in touch with an expert from Raymond West today.