Here's Why You Might Need A Mezzanine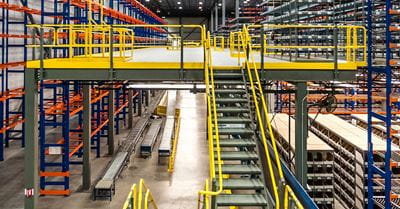 Mezzanines can be used for a wide range of purposes, and they can frequently offer a rapid return on investment.
You may have heard that adding a mezzanine to your warehouse or industrial facility can help you free up floor space, but what does that mean to you? Mezzanines can be used for a wide range of purposes, and they can frequently offer a rapid return on investment.
There are some obvious uses for mezzanines, like additional storage, but there are many other ways that mezzanines can be used:
Reclaiming Vertical Space Over Racking or Shelving
Given the cost of industrial real estate, maximizing the use of space is becoming increasingly important. Rack or shelving supported mezzanines are an easy and inexpensive way to take advantage of the vertical space above your storage equipment that otherwise would have been wasted.
Automation Equipment Support Platform
Conveyors and other automation equipment is an increasingly popular sight in warehouses and distribution hubs. While modern equipment can help to expedite a variety of operational activities, it can also take up a significant amount of floor space.
More efficient layouts that minimize the impact on storage space is critical as more warehouse procedures are automated. A mezzanine's robust steel structure can easily support bulky and heavy automation equipment while keeping floor space open for racking and other purposes.
Work Platform
The most typical use for a mezzanine is as a workspace, as you might expect. Adding a mezzanine to a facility with limited floor space can provide critical square footage without necessitating a full facility expansion. Mezzanine work platforms can enable workers to perform activities like assembly, packaging or order fulfillment without taking up valuable storage space on the warehouse floor.
Catwalk Platform
Another popular use for mezzanines is as a catwalk platform. Catwalks are a simple way of allowing people to move across a warehouse or production facility without interfering with operations. These types of mezzanines can greatly enhance safety by keeping humans away from forklifts and other equipment while freeing up floor space.
Observation Platform
In vast warehouses and production facilities, it's challenging to get a bird's-eye view of operations. Tall racking systems and other equipment can limit visibility and make it nearly impossible to track the position of employees and equipment. Mezzanines can give you a perch high above the floor, offering sweeping views of your facility that allow you to monitor equipment, processes and workers.
Additional Storage Space
Perhaps the simplest use of a mezzanine is to add storage space. Getting raw materials or extra equipment off of the floor and out of your way can help you expand production or improve the utility of your space.
Modular Offices or Break Rooms
Mezzanines can be outfitted with insulated, sound-proofed, climate controlled spaces that can be used for office space, employee congregation areas, equipment rooms or other purposes.
Equipment Maintenance
Large pieces of machinery on a production floor may be difficult to maintain from the floor level. Adding maintenance platforms or catwalks can make it easier and safer for your employees to maintain your equipment.
Talk To A Mezzanine Expert
If you'd like to learn more about elevated industrial platforms, talk to an expert at Raymond West today! Our team of engineers can help you design and build a mezzanine solution for your facility.