What Is A High Piled Storage Permit, And When Do You Need One?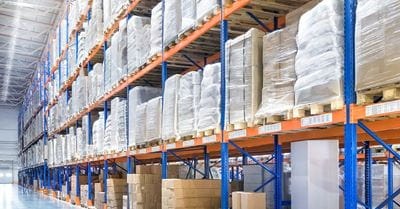 A high piled storage permit is necessary for fire safety and regulation compliance in warehouses storing combustible materials stacked high on vertical storage racks.
When storing any combustible materials in a warehouse, there are strict limitations on the height of vertical storage. Beyond a certain height, you will need to get special permits and comply with special fire code regulations.
What Is High Piled Storage?
If you are storing combustible items on racking that exceeds a certain height, you likely will need to obtain a high piled (sometimes known a high pile) storage permit. In general, these permits are required when you have a storage area in excess of 500 square feet (including aisles) where products are stored above 12 feet high. Some jurisdictions have different requirements for high piled storage, so make sure you check your local regulations.
The intent of these regulations is to ensure that racks don't block fire sprinklers or create additional risk in the event of a fire. These codes are generally based on Section 105.6.22 of the International Fire Code (IFC).
What Are Considered Combustible Materials?
Really, almost anything that can burn, even partially, is considered combustible. Most products that are stored on wooden pallets would be included. Exceptions would be items fully constructed of metal, stone or other non-flammable materials that are not stored on combustible pallets or skids.
For products that are especially combustible (e.g. chemicals, tires, wood products, etc), you may need to comply with additional regulations beyond a standard high piled permit.
How Do You Get A High Piled Storage Permit?
These permits are generally issued by the fire marshall for your jurisdiction. You'll likely need to fill out an application that includes scale drawings, ceiling heights, measurements, a description of what you're storing, existing fire suppression systems and anything else that your local jurisdiction requires.
What Happens If You Don't Get A Permit?
Local fire departments can and do conduct routine fire inspections of businesses. If they find you are storing in a high-piled configuration but don't have a permit, your business is vulnerable to costly compliance citations, potential liability and even the possibility of being shut down.
Get Help With Compliance
If you are not sure you're in compliance, need help with warehouse layout, or would like somebody to handle the permit process for you, contact Raymond West today. Our team of warehouse experts can help with all aspects of warehouse management, including high piled storage permits.