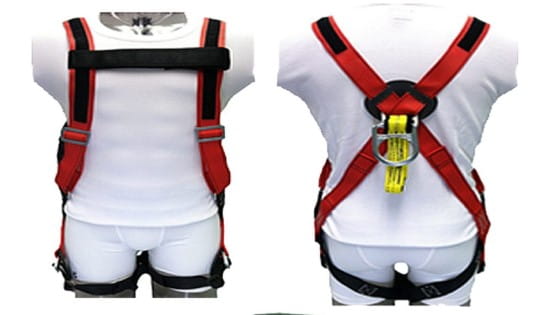 In 2017, OSHA made changes to the requirements for fall protection for Swing Reach Trucks and Orderpickers. Here are the basics.
Effective January 2017, a change was made to the Occupational Safety and Health Administration (OSHA), Labor 2910 CFR Part 1910 Walking-Working Surfaces and Personal Protection Equipment (Fall Protection Systems) that applies to all high lift trucks designed to lift personnel (Swing-Reach and Orderpickers) such as the Swing-Reach Trucks and Orderpickers. These models require a Fall Protection System which includes either a restraining means such as a guard rail system or means for securing personnel with a harness and either a self-retracting lanyard or an energy absorber.
Additional related questions:
Question: Will customers using Body Belts need to change to Full Body Harnesses?
Answer: No, the standard applies to new trucks shipping 1-17-17. Raymond and the Parts Division will no longer sell Body Belts. Replacement belts should be Full Body Harnesses.
Question: What if the operator weighs more than 400 lbs.?
Answer: The ANSI / ITSDF B56.1-2012 standard states "Contact Truck Manufacturer." The customer may want to consider all the issues including the truck down rating and the difficulty of locating harnesses and self-retracting lanyard rated for weights above 400 lbs.
Question: What is the different between Fall Protection and Fall Arrest?
Answer: Fall Protection applies to high lift trucks designed to lift personnel. It is designed to prevent and limit the chance of the operator's falling. Fall Arrest is used in the construction industry. Fall arrest systems are designed to stop an employees fall after a fall has already begun.
Question: Do Raymond operator-up trucks have a tether attachment anchor point that complies with the Z359.1-2007 Anchor Points (5,000 lbf static strength)?
Answer: The ANSI / ITSDF B56.1 exclude ASSE Z359.1 – 2007 anchorages (5000 lbf). The Raymond anchorage "tether attachment point" meets and exceeds the ANSI / ITSDF B56.1 – 2012 and is rated for a 450 lbs. operator. The smaller tether bar on the Orderpicker and the Swing-Reach anchorage point is rated to 350 lbs.
Question: Is it OK to have two people on an Orderpicker for training or taking inventory?
Answer: The truck is designed for one operator. We recommend an OSHA approved work platform for the trainer or inventory taker.