Aerial Lifts - Los Angeles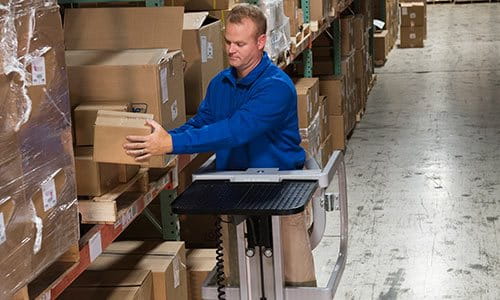 Whether you're looking to rent, lease or buy an aerial lift, Raymond West has you covered. When evaluating an aerial lift, you must consider job requirements, lift capacity, worker safety, OSHA fall protection requirements, worker comfort and ease of use.
We've got a variety of traditional man-lift types from scissor lifts to boom lifts, as well as our electric warehouse personnel lift options: the Raymond SpinGo and the Raymond Sprint.
Raymond SpinGo Elevated Platform
If you have daily activities like orderpicking, stock replenishment, or facility maintenance that are out of natural reach, Raymond's SpinGo push-around vertical platform is the perfect alternative to podiums and ladders.
The SpinGo is a compact, lightweight manual push aerial lift that provides operators precise travel. The electric lift function offers pushbutton simplicity and keeps your employees happy and productive. This work platform is small enough to fit into almost any kind of area where you would normally use a ladder, but offers superior operator comfort and safety.
Weighing in a 728 lbs, the SpinGo can support an occupant weight of up to 286 lbs and raises to a working height of 13.5'. Its load deck and cargo shelf areas can support weights of up to 198 lbs.
Raymond Sprint Elevated Work Platform
Raymond's Sprint aerial lift is the heavier duty cousin to the SpinGo and it can be driven to a work location instead of being pushed. Its maintenance free hydraulic mast features no wearable parts or chains, requires no greasing and extends to a working height of 17.5'.
The Sprint can support an operator weight of up to 286 lbs, while allowing up to 249 lbs platform capacity and 198 lbs tray capacity. Its 24 volt power supply enables the lift to run for up to 9 hours on a single battery charge.
Aerial Lift Rental
During seasonal fluctuations or peak demand periods, many businesses need extra lifts for orderpicking and stock replenishment. Raymond West offers a variety of lease and rental programs suitable for almost any material handling need.
Used Aerial Lifts
Under our Raymond ReNewed program, we take lease return equipment and refurbish it to our exacting standards, allowing you to purchase or rent pre-owned equipment at a fraction of the cost of new. For all equipment, our service department offers aerial lift repair and maintenance, handled by certified technicians. In addition, we have a full line of aerial lift parts available.
Aerial Lifts Near Me
If you're in the market for any kind of aerial lift, whether it's a scissor lift, boom lift or any other type of personnel lift, you can speak with a professional at Raymond West by calling 562-944-8067. We are among the largest sellers of material handling equipment in California, offering new and used aerial lifts, along with service, repair and parts.
If you're anywhere in Southern California or Las Vegas, you can find us at these locations:
Los Angeles, CA
9939 Norwalk Blvd
Santa Fe Springs, California 90670
Phone: 562-944-8067
Ontario, CA
4602 E Brickell St.
Ontario, California 91761
Phone: 909-930-9399
San Diego, CA
12310 World Trade Dr
Ste 111
San Diego, California 92128
Phone: 858-679-1800
Valencia, CA
28303 Industry Dr
Valencia, California 91355
Phone: 661-206-0462
Las Vegas, NV
2555 E. Washburn Rd.
North Las Vegas, Nevada 89081
Phone: 702-651-6480