Los Angeles Conveyor Systems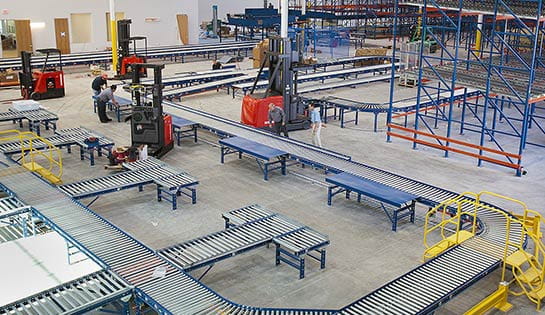 Conveyors and automated storage and retrieval systems (AS/RS) can increase the efficiency of your warehouse operations, improve safety and significantly reduce labor costs.
Conveyor systems can transport everything from heavy pallets to small packages within your material handling system and are an integral part of modern material handling design.
This article will focus on the types and uses of conveyors for material handling purposes.
Conveyors fall in three distinct categories for most material handling operations:
Non-powered conveyers
Powered roller or belt conveyors (for package handling)
Powered roller or chain conveyors (for pallet handling)
Non-Powered Conveyors
Skatewheel or roller conveyors are the most common types of non-powered conveyors used in material handling. These use gravity or inertia to move smaller items though warehouses, pick modules, automated sorters, workstations, package sorting areas and loading docks.
Skatewheel conveyors are made up of individual wheels and require very little energy to maintain the inertia of products as they move down a conveyor line. In general, they move objects faster than non-powered roller conveyors and they have more flexibility when it comes to configuration. Because they're individual wheels as opposed to a belt, they can be used in curved sections of a conveyor system.
Non-powered roller conveyors are generally less costly than skatewheel conveyor systems. They're often used for pick modules, workstations, and other areas where it's beneficial to have a flat surface to work on. They also slow products down that are coming from higher speed systems like sorters so that human laborers can keep up with system output.
Both types of non-powered conveyors have a distinct disadvantage compared to powered conveyors: by using gravity and inertia to move materials you lose the ability to control the force applied to those materials. In other words, you have very little control of the speed and inertia of materials on our line.
Powered Package Handling Roller or Belt Conveyors
Smaller items like cartons and packages often use powered roller or belt conveyors.
Belts are usually used for moving products along a line, while roller conveyers are used for accumulating products in certain areas along the line.
Belt Conveyors
Used since the beginning of the 20th Century, belt conveyors are a staple of material handling operations. Less expensive than roller conveyors and often better suited to some tasks like transporting lightweight items, belt conveyors have a place in most material handling layouts.
Belt conveyors are made up of a long, looped belt that sits atop a series of non-powered rollers or a metal substructure called a slider belt. A motor drives a pulley that turns the belt and propels objects down the conveyor line.
Belts can be made of a variety of materials and surfaces depending on the purpose and nature of the conveyor. For instance, a conveyor belt may have a smooth surface in segments where items need to be slid off the line and may have a ridged gripping surface on segments where items have to be transported up inclines.
Roller Conveyors
Although belt conveyors are time-tested workhorses, roller conveyors offer a host of advantages in many modern material handling applications.
First and foremost, roller conveyors can allow for accumulation of objects on the line where belt conveyors cannot. This is an important distinction because there are countless scenarios where objects must slow down and accumulate in material handling applications. Common situations where accumulation is important are when objects must be paused before being relayed to automated palletizers or sorters.
Many roller conveyor systems also have the ability to monitor objects on the line and utilize zero pressure accumulation, meaning none of the accumulating objects touch each other as they slow down and come to a stop.
Roller conveyors are made up of numerous cylindrical rollers that are usually powered in one of three different ways:
Line-shaft conveyors: in a line shaft conveyor, a long metal shaft runs underneath the rollers perpendicular to them and is connected to each roller with rubber O-rings. A motor turns the shaft, and consequently turns the rollers via the connected O-rings.
Line-shaft conveyors are the least costly of all roller conveyers, but they also require the most maintenance because the connections between the shaft and rollers tend to need adjustment and often fail.
Belt-driven roller conveyors: As the name suggests, these conveyors are driven by a belt that lies underneath the roller platform. A motor propels the belt, which propels the rollers.
Motorized roller conveyors: Motorized roller conveyors, often called motor-driven roller (MDR) conveyors are built in segments where one roller from each segment is propelled by a motor. That one motor-driven roller is connected to the others in that segment via rubber O-rings, thereby driving all the rollers in the segment. Motorized segments are placed in succession to create the conveyor line.
MDR conveyers are very energy efficient for a couple of reasons: a.) they typically run on 24 volt DC motors and b.) the motors can be configured to run only when an object is present on the rollers, meaning they are idle much of the time.
Although the cost of MDR conveyors is higher than line-shaft and belt drive rollers, energy costs and maintenance costs are typically much lower than other options.
Segmented belt conveyor: the concept of MDR conveyors eventually begat the development of segmented belt conveyors. Similar to MDR conveyors, segmented belts operate independently and offer many of the same benefits of MDR, including accumulation capabilities.
Powered Pallet Handling Conveyors
Powered pallet-handling conveyors are frequently used with AS/RS systems and automatic palletizers. Pallet handling conveyors can typically handle loads of up to 2 tons and operate at a much slower rate than package handling conveyors, often at speeds as low as four pallets per minute.
Pallet-handling conveyors come in two types: roller conveyors and chain conveyors.
Pallet-handling chain conveyor: perhaps the simplest of all conveyor systems, pallets on a chain conveyor line sit directly on two or more lengths of heavy duty chain. Motors propel the chain segments which in turn move pallets along the line.
Pallet-handling roller conveyor: similar in concept to MDR conveyors, pallet handling roller conveyors use larger rollers and heavy duty chains to connect the motorized roller to the rest of the rollers in a conveyor segment.
Conveyor System Consultants In Los Angeles
If you'd like a full analysis of conveyor system options for your Los Angeles material handling operation, you can speak with a professional at Raymond West by calling 562-944-8067.
If you're anywhere in Southern California or Las Vegas, you can find us at these locations:
Los Angeles, CA
9939 Norwalk Blvd
Santa Fe Springs, California 90670
Phone: 562-944-8067
Ontario, CA
4602 E Brickell St.
Ontario, California 91761
Phone: 909-930-9399
San Diego, CA
12310 World Trade Dr
Ste 111
San Diego, California 92128
Phone: 858-679-1800
Valencia, CA
28303 Industry Dr.
Valencia, California 91355
Phone: 661-206-0462
Las Vegas, NV
2555 E. Washburn Rd.
North Las Vegas, Nevada 89081
Phone: 702-651-6480