Electric Pallet Jack Options - Los Angeles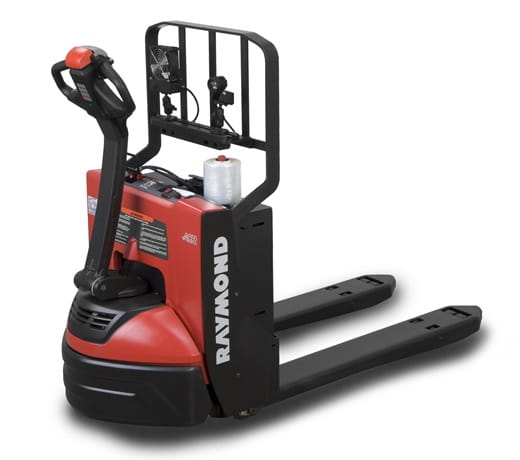 Electric pallet truck manufacturers are constantly innovating, which makes pallet truck selection more challenging as the number of options multiply.
Since the advent of the motorized pallet jack, the options for electric pallet jacks have adapted to fit nearly every industry and use.
A spokesman for Raymond West in Santa Fe Springs, near Los Angeles, had this to say:
"In a market as big a L.A., we sell a huge variety of pallet mover and pallet lifter options to practically every industry imaginable.
From logistics customers in San Pedro and Long Beach, to industrial and warehouse businesses in Commerce, South Gate, El Monte, City of Industry, and all over Los Angeles County, we sell all kinds of powered pallet jack options. "

So what are some of Raymond West' best sellers in the Southern California market?
Walkie Stacker
An improvement on the old manual forklift, the walk-behind forklift is part power pallet jack, part electric lift truck. Its lighter weight and smaller dimensions make it ideal for many applications from retail store backrooms to boxcars and trailers.
Suitable for any aisle width, this versatile pallet stacker option is right in the sweet spot of cost and capacity. Simple operation and controls require less training and improve safety.
Raymond offers a number of options in its walkie stacker lineup. The 6210 walkie straddle stacker is perfect for light duty manufacturing and dock-to-stock applications, while the RCS 20/30/40 line is a counterbalanced stacker option that offers versatile performance for trailers and racks.
The Raymond RRS 30 is a walkie reach stacker that is built for specialized, weight restricted applications, while the RSS 22/30/40 walkie straddle stacker line offers versatile performance with either two or three stage masts.
Raymond West offers both new and used walkie stackers for sale, rental or lease in Southern California. In addition, they offer a full line of parts, wheels, attachments, battery replacement and chargers.
Pallet Jack With Scale
The electric pallet jack scale is invaluable when confirming bill of lading weights, checking for product shortfalls and preventing pick errors.
While most manufacturers offer a digital scale as an add-on attachment, Raymond delivers its 8210 Walkie Pallet Truck with a factory-installed weigh scale. This fully integrated pallet jack electric scale doesn't require the calibration and frequent repair so common with after-market scale attachments and it has gained rave reviews and accolades from Raymond customers.
Raymond West offers new and used pallet jack scales for sale, lease or rent in Los Angeles and all of Southern California.
Walkie Rider
Walkie rider pallet trucks offer the speed of riding pallet jacks and the maneuverability of walkies at a lower cost than a forklift .
Raymond's 8410 walkie end rider offers the speed, safety, operator comfort and durability that you would expect from the world's top name in electric walkie rider manufacturers.
Raymond West offers both used and new walkie riders for sale, rental or lease. In addition, they offer training, accessories, battery replacement and service at their locations throughout Greater Los Angeles and all of Southern California.
Electric Pallet Jacks in Los Angeles
If you'd like assistance in selecting, servicing or repairing electric pallet trucks, you can speak with a professional at Raymond West by calling 562-944-8067.
If you're anywhere in Southern California or Las Vegas, you can find us at these locations:
Los Angeles, CA
9939 Norwalk Blvd
Santa Fe Springs, California 90670
Phone: 562-944-8067
Ontario, CA
4602 E Brickell St.
Ontario, California 91761
Phone: 909-930-9399
San Diego, CA
12310 World Trade Dr
Ste 111
San Diego, California 92128
Phone: 858-679-1800
Valencia, CA
28303 Industry Dr
Valencia, California 91355
Phone: 661-206-0462
Las Vegas, NV
2555 E. Washburn Rd.
North Las Vegas, Nevada 89081
Phone: 702-651-6480