Forklift Lease - Los Angeles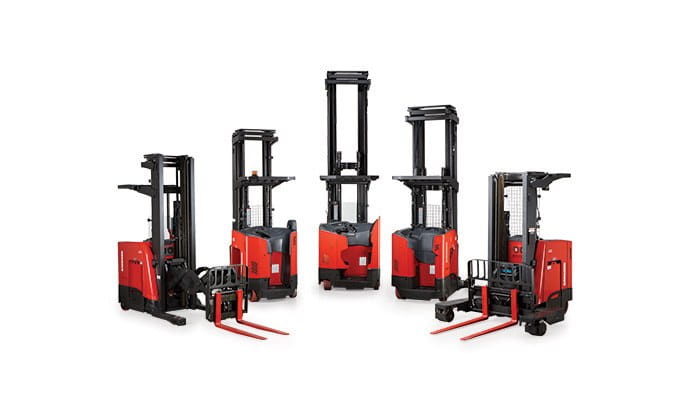 Forklift lease programs are very popular. In fact, almost half of all material handling equipment acquisitions use some sort of lease financing.
Fork truck lease rates are very favorable, and with the flexibility of a forklift lease contract you really can't go wrong.
Based in Santa Fe Springs, Raymond West is one of the largest forklift leasing companies in Los Angeles, serving customers in Los Angeles County and the rest of Southern California. Raymond offers competitive lease rates, flexible lease terms and top end equipment.
Here are a few items to consider when leasing forklifts:
Forklift Lease Cost
When considering monthly operating costs, a forklift lease agreement allows you to procure a higher-end piece of equipment than you could purchase outright. Forklift lease prices are affordable and forklift lease deals are often too good to pass up.
Forklift Lease Versus Buy
When leasing a forklift, you can you can better manage your balance sheet by conserving operating capital and freeing-up working capital and bank credit lines. Your fork truck lease vs buy analysis can be evaluated using a forklift lease calculator, available online.
100% Forklift Financing
For most lift truck lease programs, there is no down payment. This frees up capital for other purposes, allowing you to maximize your budget and increase your purchasing power.
Lift Truck Asset Management
When you lease forklifts, it simply provides the use of equipment for a specific period of time at fixed payments. Since you don't actually hold title, you don't assume or manage the risks of equipment ownership.
Forklift Service Additions
Lease forklifts with included maintenance programs, ancillary equipment or other goods and services. You can tailor a lease to fit your exact business requirements.
Forklift Truck Lease Tax Treatment
Convert CapEx to OpEx and reap near term tax benefits. Leasing can allow you to deduct 100% of your forklift lease payments as a business expense.
The Latest Lift Truck Technology
Always maintain a state-of-the-art forklift fleet. Leasing allows you to use the most up-to-date materials handling equipment and refresh your fleet on a regular basis.
Materials Handling Expertise
When you lease a forklift from Raymond, you're dealing with a company that knows the nuances of material handling solutions. We'll structure a forklift lease package that can save your business money, increase your efficiency and make you more competitive.
Lift Truck Lease Flexibility
There are numerous leasing options available, allowing the lessee to customize a lease for their specific requirements. For instance, you may choose a forklift lease purchase option where you lease to own your lift trucks. Or you may choose only a partial agreement, and lease forklift batteries when you purchase forklifts. Whether you choose a forklift lease to own program or something else, you can customize your requirements and terms in almost any way.
Used Forklift Lease
Sometimes leasing used forklifts can be a very smart strategy, particularly when you're getting certified, pre-owned lift trucks. If you step into another business's forklift lease returns you can save a bundle of money and still get a modern, reliable fleet. Granted, a forklift off lease isn't going to be a brand new truck, but when a lift truck maintenance program is included it doesn't really matter.
Forklift Lease Near Me
If you'd like to lease a forklift in Los Angeles or anywhere in Southern California or Las Vegas, you can speak with a professional at Raymond West by calling 562-944-8067. You can visit us at these locations:
Los Angeles, CA
9939 Norwalk Blvd
Santa Fe Springs, California 90670
Phone: 562-944-8067
Ontario, CA
4602 E Brickell St.
Ontario, California 91761
Phone: 909-930-9399
San Diego, CA
12310 World Trade Dr
Ste 111
San Diego, California 92128
Phone: 858-679-1800
Valencia, CA
28303 Industry Dr
Valencia, California 91355
Phone: 661-206-0462
Las Vegas, NV
2555 E. Washburn Rd.
North Las Vegas, Nevada 89081
Phone: 702-651-6480