Forklift Sales - Los Angeles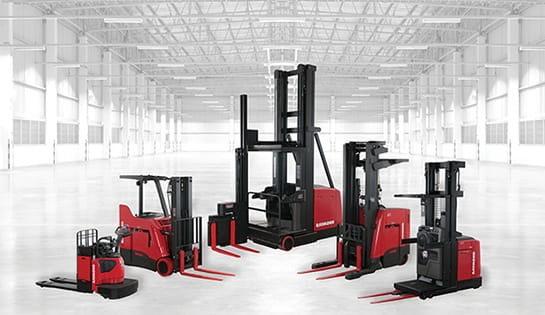 Researching and buying lift trucks is a multi-million dollar proposition for many businesses, and whatever decision is made will have a profound effect on business operations for years to come.
Fork lift sales is a very competitive segment, particularly in a market like Los Angeles. On any given day, there are thousands of lift trucks for sale across Southern California, so understanding the right questions to ask when buying a forklift can save you a lot of research and time.
Once you understand the forklift buying process, you'll be able to quickly look at the forklifts for sale in your market and select the best forklifts to buy for your specific requirements.
Forklift Types
Defining the types of forklifts you'll need is where many people start. Will they all be the types of forklifts used in warehouses, or will there be some outdoor lift truck applications? Forklift dealers often specialize in certain application types, so finding a forklift company that can meet all of your needs is important.
Used or New Forklifts?
Will you buy new forklifts, or will you be including used forklifts in your fleet? New forklift prices are sometimes prohibitive for smaller businesses, and many opt to either lease forklifts or buy used lift trucks instead.
Your forklift purchase price is often dependent on other factors like maintenance contracts and additional equipment, so you may be able to buy new lift trucks if you bundle products and services in your contract.
Forklift Brands
What forklift brands and models will you consider? A forklift brand comparison with the best rated forklifts can be invaluable in decision making. Material handling publications sometimes offer a forklift buyers guide that should have a forklift brands list and forklift ratings from the publisher.
Buying a reliable forklift is critical, so it's also important to read forklift reviews from actual users. They will often give you more information on specific fork lift dealers, forklift prices and other valuable insight.
When you narrow down the brands of forklifts you'll be considering, you can go to a specific fork lift company and request a forklift pricing guide that will give you a sense of your total forklift cost.
Forklift Dealers
Will you be working with a full service fork lift dealer? Are they able to provide maintenance programs, parts, batteries, training and other services that go along with forklift ownership? Forklifts dealers vary widely by capabilities, so it's important to vet them carefully.
Forklift equipment sales is a very competitive business, so when you find your desired forklifts for sale from a lift truck dealer that you like, you shouldn't be afraid to negotiate for discounts, extra services or perks.
Forklifts For Sale Near Me
If you'd like to buy a forklift or get information on fork lifts for sale in Los Angeles or anywhere in Southern California or Las Vegas, you can speak with a professional at Raymond West by calling 562-944-8067.
You can visit us at these locations:
Los Angeles, CA
9939 Norwalk Blvd.
Santa Fe Springs, California 90670
Phone: 562-944-8067
Ontario, CA
4602 E Brickell St.
Ontario, California 91761
Phone: 909-930-9399
San Diego, CA
12310 World Trade Dr.
Ste 111
San Diego, California 92128
Phone: 858-679-1800
Valencia, CA
28304 Industry Dr.
Valencia, California 91355
Phone: 661-206-0462
Las Vegas, NV
2555 E. Washburn Rd.
North Las Vegas, Nevada 89081
Phone: 702-651-6480