Material Handling - Los Angeles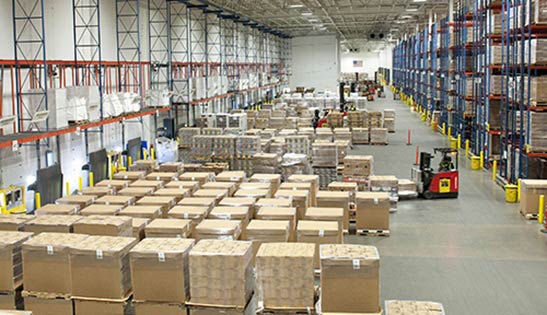 There are many material handling supply companies throughout California, but none that have the product depth and experience of Raymond West. Not only are we one of the largest forklift dealers in Southern California, we are a full service material handling supplier offering sales, leasing, installation, service, maintenance, repair and parts for all of your material management needs.
Here are some of the types of material handling equipment we offer:
Lift Trucks
We offer new electric forklift sales for all types of applications from the top forklift manufacturer in the nation, Raymond Corp
Our used lift trucks come with a Raymond ReNewed certification, ensuring you get the best used forklifts available anywhere.
Our lift truck repair, maintenance, and service is done by certified technicians with extensive forklift training and expertise
We offer a full range of forklift parts from all lift truck manufacturers
Short and long term forklift rental is available for seasonal or peak demand periods
Raymond also offers attractive forklift lease and finance programs
Specialty Trucks
Swing reach trucks: these very narrow aisle solutions allow you to increase your warehouse pallet capacity by up to 300%
Tow tractors: for high volume horizontal transport and order picking
Sideloaders: these long load forklifts are designed for long and bulky loads like lumber, piping, bar stock, plywood and tubing
Forklift Telematics
Raymond's iWarehouse Evolution system provides state-of-the-art telematics to your warehouse operation. Data collected from your forklift fleet is transmitted to a web-based data dashboard that gives you actionable business intelligence every single day.
The iWarehouse telematics solution also offers unparalleled data collection for all of your forklift fleet management needs, through battery monitoring, impact sensors and other cutting edge technology.
Automated Material Handling Equipment
Raymond West proudly offers solutions from Kardex Remstar, MHS Conveyor, Radioshuttle and other ASRS manufacturers:
We provide picking systems for improving your picking, packing and shipping functions
Our horizontal carousel options improve warehouse efficiency
Vertical carousel applications allow you to recover floor space and streamline operations
Vertical lift systems speed fulfillment and improve accuracy
Conveyor and sorting systems increase productivity and improve capacity
Pallet shuttles are semi-automated storage systems that maximize your storage capacity by using pallet runners in very deep lane storage configurations
Industrial Shelving
When it comes to warehouse shelving, Raymond West has you covered. We have numerous options, including:
Cantilever racks for long, bulky products like lumber, pipes, carpet rolls, etc.
Carton flow shelving for better flow and lane flexibility
Drive-in shelving designed to maximize your space and productivity
Pushback shelving maximizes your capacity with 2-6' deep systems
Pallet Flow provides deep lane storage and FIFO control for pallet handling
Selective rack comes as structural or roll formed and is compatible with most brands and existing applications
Warehouse Mezzanines
A mezzanine system from Raymond can improve your warehouse utilization by transforming unused overhead space into usable work space. By expanding upward, you can save money, increase efficiency and improve your overall productivity.
Your Material Handling Company in Los Angeles
If you'd like to buy, rent or lease material handling equipment in Los Angeles or anywhere in Southern California or Las Vegas, you can speak with a professional at Raymond West by calling 562-944-8067.

You can visit us at these locations:
Los Angeles, CA
9939 Norwalk Blvd
Santa Fe Springs, California 90670
Phone: 562-944-8067
Ontario, CA
4602 E Brickell St.
Ontario, California 91761
Phone: 909-930-9399
San Diego, CA
12310 World Trade Dr
Ste 111
San Diego, California 92128
Phone: 858-679-1800
Valencia, CA
28303 Industry Dr
Valencia, California 91355
Phone: 661-206-0462
Las Vegas, NV
2555 E. Washburn Rd.
North Las Vegas, Nevada 89081
Phone: 702-651-6480