Turret Truck - Los Angeles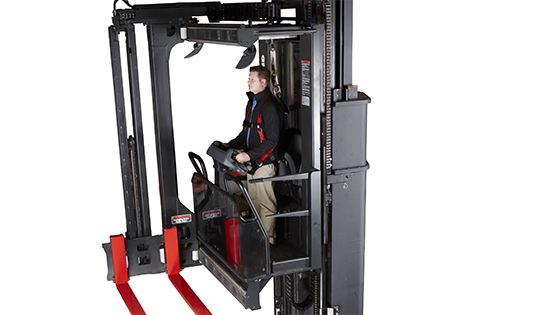 Turret trucks are used only for very narrow aisle (VNA) warehouse configurations. These very narrow storage systems use the smallest aisle width possible, allowing for maximum storage density and efficiency for any warehouse operations.
The main mast of the turret lift truck elevates the operator along with the forks, so the forklift driver has a clear view of the load handling process and they can be many feet up in the air as they operate the controls. Compared to counterbalanced trucks or reach trucks, where the operator can be several feet away from the load, turret forklifts provide a tremendous advantage in picking and handling.
Turret truck forks are located in front of the operator and they're mounted on a smaller mast that can rotate 180 degrees. This allows the driver to access racks on both sides of the aisle without repositioning the VNA forklift, which saves time and greatly improves efficiency. The forks travel along two rails on the main mast, allowing the operator to position the forks to move, lift and lower pallets.
Most turret fork trucks use wire guidance systems within aisles, meaning the operators don't need to steer the vehicle as it traverses up and down the aisle. This increases processing speed, improves safety and boosts productivity.
While turret trucks come at a higher price and generally require more training for operators, increases in productivity and warehouse density can pay for these costs many times over.
Raymond Turret Trucks
Raymond is among the top manufacturers of turret trucks and is one of the most trusted brands in material handling. We offer many options in our turret forklift line, including:
The 9600 Swing-Reach Truck: this option provides case picking and high-level pallet handling versatility in VNA configurations. It has lift heights of up to 33 feet.
Raymond's 9700 Turret Truck: the 9700 offers lift heights of up to 43 feet, faster lift speeds and greater load capacity, making it the perfect choice for heavy-duty VNA applications.
Raymond 9800 Swing Reach: this articulated truck has even greater lifting capacity and offers load handling of up to 50 feet.
Transtacker: the TRT transtacker truck has AC/DC power options, allowing around the clock operation. In addition, it offers up to 4,000 pound load capacity and heights up to 59 feet.
The Benefits of VNA and Turret Trucks in Southern California
Largely because of e-commerce, warehouse space rental in Los Angeles, Orange County, San Diego and the Inland Empire is at an all-time high. Industrial space is, on average, 97% full across Southern California in 2018, meaning that prices are high and continuing to rise.
In fact, in Los Angeles County, rents are expected to rise by 9.5% this year alone. Rents in the Inland Empire jumped 26% in 2017, and will continue to rise as demand increases.
Increasing warehouse density through VNA application can have a meaningful impact on profitability for all types of businesses, and should be a strong consideration in any near and long term capital planning.
Turret Truck Rental, Leasing & Sales in Los Angeles
If you are considering the acquisition of turret trucks, you can speak with a professional at Raymond West by calling 562-944-8067. We are among the largest sellers of turret trucks in California, offering new and used turret trucks, along with service, repair and parts.
If you're anywhere in Southern California or Las Vegas, you can find us at these locations:
Los Angeles, CA
9939 Norwalk Blvd.
Santa Fe Springs, California 90670
Phone: 562-944-8067
Ontario, CA
4602 E Brickell St.
Ontario, California 91761
Phone: 909-930-9399
San Diego, CA
12310 World Trade Dr.
Ste 111
San Diego, California 92128
Phone: 858-679-1800
Valencia, CA
28303 Industry Dr.
Valencia, California 91355
Phone: 661-206-0462
Las Vegas, NV
2555 E. Washburn Rd.
North Las Vegas, Nevada 89081
Phone: 702-651-6480