Used Forklifts - Los Angeles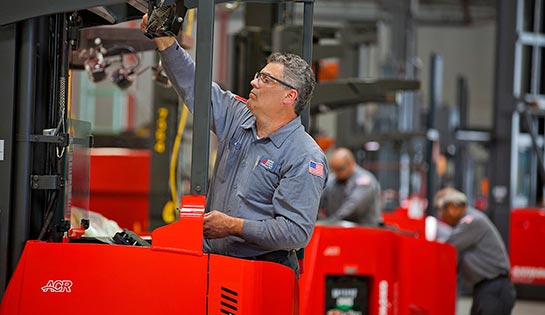 Are you considering the purchase of used forklifts? There are thousands of used forklifts for sale in Los Angeles and throughout Southern California. Purchasing pre-owned lift trucks can be a great decision and may save you a lot of money. If you're not quite sure about buying a used forklift, consider some of the advantages:
Rapid Procurement
When you buy new equipment, financing and order delivery can take time. One great advantage to used forklift sales is that they tend to close fast and you can take delivery sooner.
Used Forklift Pricing
Just like buying a used vehicle, you'll pay less for when you buy used forklifts. A used forklift price discount depends heavily on the type and brand of forklift, but you'll generally pay substantially less for pre-owned equipment. When you find a used forklift for sale, it's a good idea to check prices on two similar lift trucks in your market area to make sure you're getting a fair deal.
Used Forklift Values
Your budget may limit what you can afford to buy new, but buying used may allow you to buy a better lift truck than you could otherwise afford. Used forklift prices for recent models very similar to the newest available can be heavily discounted, meaning you can get the latest and greatest for a fraction of the price of new.
Used Forklift Dealers
When you buy from a used forklift dealer that is also a distributor, you can get factory certified used lift trucks that are almost as good as buying new. These used forklift trucks are fully inspected, cleaned and refurbished by certified technicians and often come with a warranty.
Other Considerations
Now that you're aware of some of the advantages of buying used forklifts, you should consider a few other factors to see if a used fork lift strategy is right for you:
Equipment Utilization: how much will you be using your forklifts? If you're using your equipment all day, every day, it may actually be better to rent your forklifts or buy them new, even if you pay more up front. Heavy use patterns are better suited to new equipment, or equipment that you're not ultimately responsible for maintaining.
Maintenance Capabilities: do you have in-house resources that can maintain your used forklifts? If you have a technician on staff that can maintain and repair used fork trucks they can be very economical. If you don't, you should consider a maintenance contract.
Reputable Used Fork Lift Dealers: buying from a reputable, knowledgeable dealer is always advised. Dealers will often resell off-lease equipment that has been regularly and properly maintained. Private party sales, on the other hand, are always a gamble—you have no way of knowing the true history of the equipment or how it was maintained.
Lift Truck Safety: when buying a used lift truck, you should always be conscious of safety features and order a used forklift inspection from a qualified technician.
Used Forklift Warranty: used lift trucks purchased from dealers often come with an initial warranty. If you can purchase an extra warranty or maintenance contract, you should consider the additional expense vs the cost of buying new equipment.
Used Forklift For Sale Los Angeles
If you'd like to buy a used forklift or get information on used forklifts for sale in Los Angeles or anywhere in Southern California or Las Vegas, you can speak with a professional at Raymond West by calling 562-944-8067.
You can visit us at these locations:
Los Angeles, CA
9939 Norwalk Blvd.
Santa Fe Springs, California 90670
Phone: 562-944-8067
Ontario, CA
4602 E Brickell St.
Ontario, California 91761
Phone: 909-930-9399
San Diego, CA
12310 World Trade Dr.
Ste 111
San Diego, California 92128
Phone: 858-679-1800
Valencia, CA
28303 Industry Dr.
Valencia, California 91355
Phone: 661-206-0462
Las Vegas, NV
2555 E. Washburn Rd.
North Las Vegas, Nevada 89081
Phone: 702-651-6480