Warehouse Equipment - Los Angeles, CA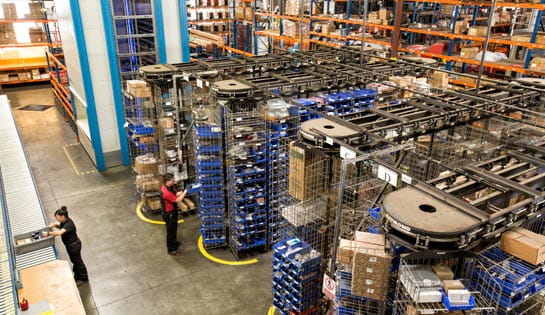 Idle resources, whether inventory, equipment or workers, don't generate revenue. Until recently, the physical limitations of storing goods in a warehouse and having employees locate and pick items were unavoidable constraints of materials handling.
Rapidly advancing warehouse automation technologies, however, are quickly changing the very nature of the material handling business.
Specifically, automated storage and retrieval systems (AS/RS) options are revolutionizing the warehouse. Some of the top reasons for implementing AS/RS systems are:
Massive increases in efficiency. AS/RS systems slash labor costs, save floor space, reduce inventory damage, and increase throughput.
Increased Capacity. Efficiency gains mean that businesses can add more SKUs and increase throughput of existing operations for even greater profitability.
Lift truck savings. AS/RS systems reduce forklift travel distance and hours.
Advanced Coordination. Automated solutions allow for complex sequencing and buffering options that can be coordinated with shipping times and route options.
Quality control. AS/RS systems are simply more accurate and are better at handling complex tasks than humans.
Increased safety. Less human intervention means fewer accidents.
Flexibility. When it comes to order consolidation, value adds, storage, replenishment and putaway, AS/RS systems are becoming more and more versatile.
Warehouse Storage Systems & AS/RS
So what exactly is AS/RS? There are many different technologies that are classified as AS/RS systems, including these including these carton and tote handling solutions:
Fixed aisle systems
Horizontal carousels
Vertical carousels
Vertical lift modules
Fixed Aisle AS/RS
Fixed aisle systems are generally configured as two rows of racking with a narrow aisle in between. In the center of the aisle is a raised metal rail with a tall mast that travels along it. Attached to the mast is a vertically traveling carriage equipped with a load handling mechanism.
This mast and carriage is referred to as the SRM (storage and retrieval machine) or crane. Most systems use one SRM per aisle, but more advanced systems may have multiple.
In general, there are two types of fixed aisle systems. Unit-load systems are designed to handle large loads on pallets. Mini-load systems (sometime called a case-handling machine or tote stacker) are smaller implementations that can handle cartons and smaller items.
Horizontal Carousels
Horizontal carousels are similar in concept to that rack your drycleaner uses to store and retrieve your clothes. They are generally used for smaller sized products and they are a series of bins suspended from a top rail. Quite often they will be coupled with voice picking systems or pick-to-light systems.
Vertical Carousels
As the name suggests, vertical carousels are vertically oriented, and are conceptually similar to a Ferris wheel with bins or trays fastened to a system that travels in an up and down motion. They are typically housed in a tall metal column.
Vertical Lift Modules
Like a vertical carousel, VLMs are vertically oriented systems that store trays in a tall metal column. However, a VLM has an extractor mechanism that travels up and down inside the column, retrieves individual trays and delivers them to the operator.
Warehouse Consulting in Los Angeles
If you'd like assistance in evaluating warehouse automation options for your Los Angeles material handling operation, you can speak with a professional at Raymond West by calling 562-944-8067.
If you're anywhere in Southern California or Las Vegas, you can find us at these locations:
Los Angeles, CA
9939 Norwalk Blvd.
Santa Fe Springs, California 90670
Phone: 562-944-8067
Ontario, CA
4602 E Brickell St.
Ontario, California 91761
Phone: 909-930-9399
San Diego, CA
12310 World Trade Dr.
Ste 111
San Diego, California 92128
Phone: 858-679-1800
Valencia, CA
28303 Industry Dr.
Valencia, California 91355
Phone: 661-206-0462
Las Vegas, NV
2555 E. Washburn Rd.
North Las Vegas, Nevada 89081
Phone: 702-651-6480