Pallet Jacks | Long Beach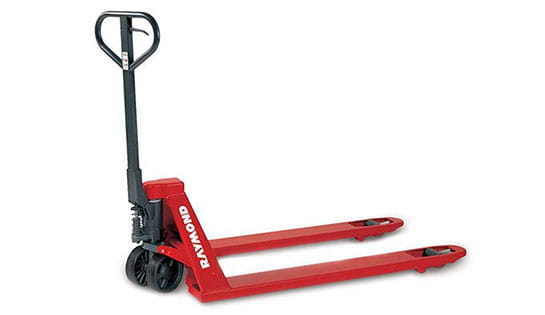 Raymond West is a Long Beach supplier of new and used electric and manual pallet jacks.

We are backed by one of the largest service and parts operations in Southern California.

Call us today at (562) 444-1222
When you're contemplating the acquisition of pallet trucks, it's important to analyze the benefits and some of the negative aspects of different types of equpment.
Certainly, the foremost purpose of a pallet truck is to move pallets around a distribution center, loading dock or some other enterprise where pallets need to be transported.
That being said, depending upon the capacity of your enterprise, the tonnage of pallets that will be transported, the regularity of use, and many other variables, you may wish to get a more thorough knowledge of which pallet trucks perform best in which environments.
The following write-up is a review of pallet truck options, qualities, limits and applications.
Manual Pallet Jacks
Non-motorized pallet trucks have been in existence since the early 1900's and have not evolved much since that era. They are composed of a steel chassis, a fork and a hydraulic unit that's mobilized by pushing the handle up and down.
The user of a non-powered pallet jack places the forks beneath the pallet, elevates the pallet above the floor and transports the pallet to a chosen point, guiding the pallet jack with the handle.
Any place where lift height is not important may possibly be an appropriate application for a non-powered pallet jack, including stock room aisles, warehouse back rooms and similar. Unlike a lift truck, manual jacks are also more or less portable and will fit in the back of a vehicle for delivering goods. The load capacity of most non-motorized pallet trucks is approximately 5500 lbs.
Non-powered pallet jacks are most ideal for periodic use scenarios across short ranges. Hand pallet jacks are not the most effective selection for transporting pallets across great distances, steep gradients or coarse surfaces. Users have to physically maneuver the pallet jack which can be physically exhausting after a period of time.
Walkie Pallet Jacks
Although approximately double the scale of non-powered pallet trucks, walkies are still comparatively small in size and they're exceptionally maneuverable.
Walkie pallet trucks are electrified by on-board battery packs. The battery supplies a powered assist for driving and lifting. The operator no longer needs to use the tiller to elevate the pallet, nor do they have to pull the payload across the warehouse.
However, they are still referred to as "walkies", due to the fact that the operator does still have to walk at the back of or beside them.
A walkie pallet truck's maximum speed is moderate when compared with rider jacks, because the user has to keep up with the jack instead of standing on it. This is actually somewhat of an inherent "safety feature", since limited speeds also minimize the consequences of collisions.
The maximum capacity of most walkie pallet trucks is between 4500-6000 pounds.
Though they're more user-friendly than hand pallet trucks, walkies have to be charged on a regular basis, given that they're battery powered. In addition, walkies need more servicing than non-motorized pallet trucks due to the fact that there are many more moving parts and points of possible mechanical problems.
The main applications for walkie pallet jacks are dock plates, trailers and brief to mid-length runs.
Rider Pallet Jacks
Rider pallet trucks function like walkies, apart from the fact that they feature a basic user platform for the user. There are minimal controls on rider jacks so they're relatively straightforward to maneuver and necessitate comparatively little training.
Drivers can step on the platform rather than just keeping pace in the rear or on the side of the pallet truck. This means that they are a better choice for advancing loads across longer ranges vs hand or walkie pallet jacks. They're ideal for constant movement over greater ranges and they are used frequently in large warehouse complexes and industrial enterprises.
The driver platform is satisfactory for quick trips, but not recommended for operators that handle them throughout the day because they're rather minimal and force the driver to position themselves at a sideways angle.
Rider pallet trucks are much heavier than manual or walkie pallet jacks, so impacts can result in fairly significant personal injury and property destruction. Rider pallet jacks afford minimal shielding for the user vs other alternatives such as center riders.
Center Riders
Center riders are reminiscent of rider pallet trucks, but they are more protective for the user and feature a more comfortable drive. The operator can stand completely forward or backward as opposed to just sideways.
There is also lower hazard for the user, because they're insulated by the equipment chassis on two sides, although they're still subjected to the potential danger of the lifting mechanism.
Center riders are harder to turn than rider pallet jacks and they are most suitable for uses where the user travels mainly in a straight path.
Center riders are commonly used in general factory operations, warehouse and beverage operations.
Where to Rent or Buy Pallet Jacks in Long Beach, California
If you'd like to speak with a Raymond representative about pallet jacks, please get in touch with Raymond West, a Long Beach material handling equipment supplier serving Long Beach, Harbor and South Bay, including: Long Beach, North Long Beach, Wilmington, San Pedro, Lomita, and Torrance.
Long Beach, CA
3553 Atlantic Ave
Long Beach, CA 90807
(562) 444-1222
7:00 AM - 5:00 PM
Monday - Friday