Warehouse Mezzanine Systems | Long Beach, CA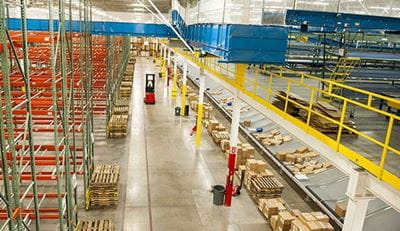 Raymond West is a Long Beach supplier of new and used warehouse mezzanine systems.

We are backed by one of the largest installation and service operations in California.

Call us today at (562) 444-1222
With rising warehouse real estate costs, making use of every bit of current space in your facility is essential.
Warehouse vacancy is at an all-time low in several parts of the country, and many organizations are having a hard time finding extra space, especially in areas like Long Beach.
Savvy businesses are taking advantage of the vertical space in their facilities by adding an elevated steel platform, or mezzanine, to maximize storage capacity and efficiency. You can effectively use all of the space in your storage facility up to the ceiling while still using the floor area beneath the mezzanine decking for your standard applications.
For operations that outgrow their production, warehouse or distribution facilities, relocating can be an extremely costly and inconvenient proposition. A cost effective and minimally invasive alternative is to use industrial mezzanines to augment the utilization of cubic feet.
Warehouse mezzanines are practical for all kinds of businesses, from modest warehouses to massive DCs. Whether you opt for simple, prefabricated mezzanines or custom designed, multi-story steel mezzanines, the proper system can enhance efficiency and yield a rapid ROI.
Prefab Mezzanine Systems
Mezzanine warehouse installations may be a perfect option for maximizing storage density, but they can also serve as an excellent vantage point to supervise safety practices and warehouse performance.
Industrial platform structures can take many forms, and many typical designs serve several purposes. Quite often configurations are designed with mezzanine office modules, allowing breakrooms, offices and conference rooms in addition to storage.
The vast majority of solutions can be installed without any building alteration and they can be quite straightforward to assemble and disassemble. As your business evolves, so can your mezzanine system-they are easy to modify and reconfigure.
So that employees can access these platforms, mezzanine stairs are included. Typical storage setups also include forklift accessible gates. Some systems also include vertical reciprocating conveyors (VRC) or mezzanine lift systems to enable product movement to and from the platform.
Industrial Mezzanine Classifications
Freestanding: these systems maximize your floor space and feature uncomplicated assembly, modification and disassembly. Broad span configurations permit easy traffic flow underneath the platform. Structural solutions are perfectly suited for part and product storage.
Rack Supported: "catwalk" or rack supported solutions are installed on pallet racks, allowing additional storage above the racking. Rack supported options generally feature several gates for loading and unloading pallets within the racking system.
Shelf supported: for augmenting storage of lighter weight items, shelving supported mezzanines are frequently included above shelving systems. Although not as versatile as rack-supported or freestanding choices, shelf supported systems are inexpensive and simple to implement.
New and Used Mezzanine Systems in Long Beach
With a presence across 8 states and 19 locations, Raymond West is one of the biggest mezzanine and racking providers on the West Coast. We provide both new and previously owned mezzanines for most types of applications. Call a material handling expert at Raymond today!
Long Beach Service Area:
Long Beach, North Long Beach, Wilmington, San Pedro, Lomita, Torrance
Phone: (562) 444-1222