Warehouse Mezzanine Systems | Los Angeles, CA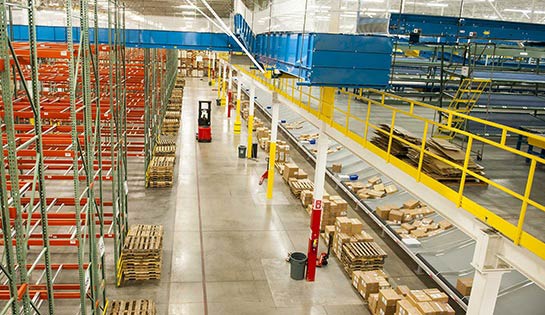 Raymond West is a Los Angeles supplier of new and used warehouse mezzanine systems.

We are backed by one of the largest installation and service operations in California.

Call us today at (562) 944-8067
With rising warehouse real estate expenses, making use of every bit of existing space in your facility is vital.
In markets like Los Angeles, some businesses are are not able to find new warehouse space because vacancies are at historic lows.
Smart warehouse operators are taking advantage of the vertical space in their operations by using an elevated steel platform, or mezzanine, to augment storage capacity and efficiency. You can effectively use all of the space in your storage facility up to the ceiling while still using the floor area beneath the mezzanine decking for your everyday applications.
Relocating your warehouse space is a costly and inconvenient process, and businesses that have outgrown their operations should weigh their options before deciding to move. An inexpensive and minimally invasive alternative is to use industrial mezzanines to maximize the utilization of cubic feet.
From modest storage facilities to massive DCs, warehouse mezzanines can be a great option for all types of organizations. Whether you select simple, prefabricated mezzanines or custom designed, multi-story steel mezzanines, the appropriate system can enhance efficiency and yield a rapid ROI.
Prefab Mezzanine Systems
Mezzanine warehouse installations can be a perfect solution for maximizing storage capacity, but they can also serve as an excellent vantage point to monitor safety practices and warehouse efficiency.
Industrial platform structures can take many forms, and many common configurations serve multiple purposes. Oftentimes solutions are set up with mezzanine office modules, allowing offices, breakrooms and conference areas in addition to storage.
The majority of mezzanine systems provide easy assembly and disassembly. In most instances there is no need for structural modification of the building. As your business evolves, so can your mezzanine system-they are simple to modify and reconfigure.
So that employees can access these platforms, mezzanine stairs are included. Typical storage setups also include lift truck accessible gates. In addition, many configurations employ mezzanine lift systems or vertical reciprocating conveyors (VRC) to move products on and off the platform.
Industrial Mezzanine Categories
Freestanding: a structural or freestanding warehouse mezzanine system maximizes floor space and offers easy assembly and disassembly. Broad span layouts allow easy traffic flow below the platform. Structural systems are perfectly suited for part and product storage.
Rack Supported: rack supported, or "catwalk" mezzanine options allow additional storage areas above pallet racking configurations. Pallets can be loaded and unloaded using forklift gates included in most systems.
Shelf supported: for expanding storage of smaller items, shelving supported platforms are often added above shelving systems. Although shelf supported solutions are extremely economical, they are not as versatile as freestanding or rack supported options.
New and Used Mezzanine Systems in Los Angeles
If you are looking for a new or used mezzanine, we provide options for all sizes and types of operations. Call a material handling expert at Raymond today!
Raymond West
9939 Norwalk Blvd
Santa Fe Springs, CA 90670
562-944-8067