Cantilever Rack | Los Angeles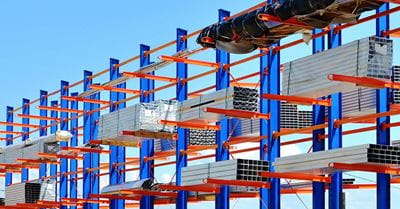 Raymond West offers single and double sided cantilever rack in a variety of capacities.

We are one of the largest industrial racking suppliers in the state.

Call us today at (562) 944-8067
Cantilever rack is the ultimate storage equipment for storing large, lengthy or odd sized items like carpet rolls, drywall or lumber. It permits you to store bulky products in a more efficient manner and in much larger quantities.
While most products pass through warehouses on conventional pallets, there are several outliers. In many situations, there are certain items that just can't possibly fit on a standard pallet. Whether it's sheetrock, lumber, piping, carpeting or something else that's bulky, long or oddly shaped, certain products are just problematic to store.
Cantilever rack is the answer to this dilemma. It permits you to stock awkward items more efficiently and in greater numbers. Rather than stacking goods in a storage yard or on a warehouse floor, you can fully utilize vertical space.
Using vertical storage also permits you to inventory a larger assortment of products, as you can easily retrieve a product off of a cantilever level instead of maintaining different stacks of different products.
Heavy Duty Cantilever Rack
Cantilever style racks are not at all like standard pallet racks. Cantilever starts with a steel foundation that is attached to a vertical steel beam. The beam has horizontal extensions mounted at different levels to hold goods. Cantilever racks can bear an astonishing weight capacity. Some cantilever systems can hold capacities of nearly 20,000 lbs per level.
Single Sided Cantilever Rack vs Double Sided
Almost all cantilever shelving systems have choices for one sided cantilever to be positioned near walls, and two sided shelving that can be configured in aisles.
A key benefit to cantilever rack is its ability to be readily adjusted. As your business needs change, you can easily readjust cantilever heights and sections.
A supplementary advantage is that the open design of cantilever rack permits your forklifts unfettered access to products that are generally tricky to manage. In addition, open racks enable greater visibility, allowing employees to find products quickly and easily.
Cantilever Racks For Specific Industries
Although most types of businesses have a handful of long or bulky sorts of goods, there are a few types of businesses that make extensive use of cantilever:
Construction: lumber, gypsum board, metal or plastic piping and plywood sheets are some building products that are awkward and challenging to store.
Manufacturing: lots of manufacturing facilities use steel tubing, bar stock, steel plate and other elongated or outsized materials in their manufacturing processes.
Energy: the oil industry has requirements to store piping, drilling equipment and steel stock.
Household Goods: carpet rolls, floor covering, countertop slabs and larger pieces of furniture are all good examples of large, awkward goods that are not easy to store.
Cantilever Racks Near Me
Are you looking for cantilever rack? Call a storage system expert at Raymond West now. We offer a broad range of both brand new and used racking options for almost any type of industry.
Raymond West's Los Angeles facility serves much of Los Angeles County, including Santa Fe Springs, Whittier, La Mirada, Downey, Pico Rivera, Los Angeles, Montebello, El Monte, Rosemead, Alhambra, South Gate, Lynwood, Compton, Westmont, Gardena, Torrance, Carson, San Pedro, La Habra, City of Industry, Walnut, Inglewood, Hawthorne and all surrounding areas.
Raymond West | Los Angeles Material Handling Equipment Supplier
9939 Norwalk Blvd
Santa Fe Springs, CA 90670
(562) 944-8067