Push Back Rack | Los Angeles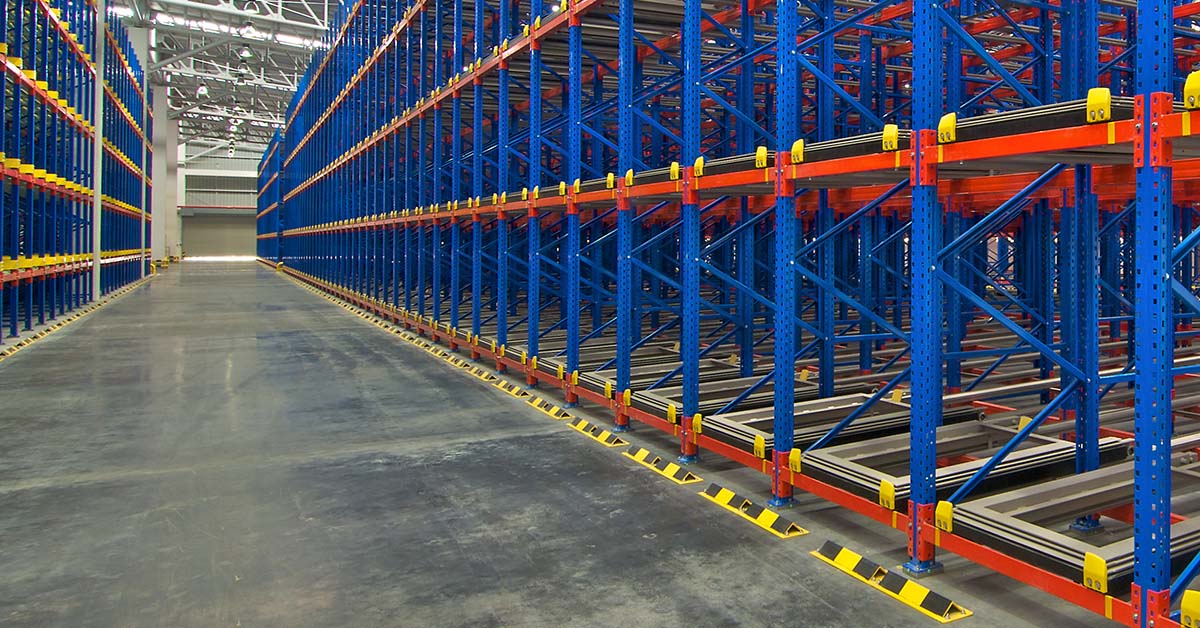 Raymond West offers pushback rack in a variety of styles and capacities.

We are one of the largest industrial racking suppliers in the state.

Call us today at (562) 944-8067
What Is Push Back Racking?
Push back racking (often referred to pushback rack) is a high density pallet storage approach that allows pallets to be stored anywhere from 2 to 6 units deep. Pallets rest on nested shuttles that are forced up a gradual incline as products are loaded, or "pushed back" from the face of the rack.
When products are subsequently pulled, the pallet abutting the front pallet slides back down the gradient to the front slot.
Push Back Rack Advantages And Disadvantages
Push back rack is perfect for certain applications, but is not a fit for some storage requirements. There are several favorable and possibly unfavorable aspects to investigate.
Higher Density Storage
Since push back pallet racks can accommodate between 2-6 pallets in any given position, they can recover somewhere from 1-5 aisles, which can be an enormous chunk of warehouse square footage.
Less Forklift Travel
With a reduction in aisle number, forklifts don't have to rack up as many hours, increasing efficiency and reducing wear and tear on equipment. Lower lift truck traffic also improves safety by a significant factor within the warehouse. Less travel means fewer accidents.
Greater Selectivity
Push back rack offers an excellent mixture of storage density and selectivity. In contrast to drive-in rack, where whole rack bays are typically one SKU, push back offers straightforward access to a much greater number of pallet slots from the aisle.
LIFO Configuration
Unlike pallet flow rack, which is a First In First Out (FIFO) type of system, push back rack is a Last In First Out (LIFO) type of storage. LIFO systems are not a good option for items that are perishable, because goods that are added first may sit for quite a long period of time as products are added and removed from the rack face.
How Does Push Back Racking Work?
Push back racks utilize a pair of rails declining toward the aisle and a collection of interlinked shuttles which travel on these rails.
The first pallet is added on the highest cart by a forklift. When a second pallet is positioned, the forklift operator nudges the primary pallet back and positions the next pallet on the next cart. The very last pallet positioned in the lane rests on the rails.
As push back rack is unloaded, shuttles of unit loads glide down the tracks. An operator can pull each pallet in succession until the lane is empty, or add pallets, refilling the lane.
Push Back Pallet Racking For Sale
If you're in the market for a push back racking system, contact a warehouse storage expert at Raymond West today. Raymond's storage design professionals can help you develop a solution that is ideal for your operation.
Raymond West's Los Angeles facility serves much of Los Angeles County, including Santa Fe Springs, Whittier, La Mirada, Downey, Pico Rivera, Los Angeles, Montebello, El Monte, Rosemead, Alhambra, South Gate, Lynwood, Compton, Westmont, Gardena, Torrance, Carson, San Pedro, La Habra, City of Industry, Walnut, Inglewood, Hawthorne and all surrounding areas.
Raymond West | Los Angeles Material Handling Equipment Supplier
9939 Norwalk Blvd
Santa Fe Springs, CA 90670
(562) 944-8067