Forklift Battery Supply | Ontario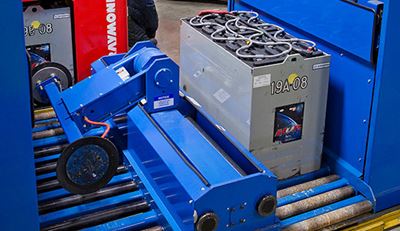 Raymond West is an Ontario supplier of new and used forklift batteries, chargers and handling equipment.

We are backed by one of the largest service and parts operations in Southern California.

Call us today at (909) 930-9399
Power efficiency requirements and "green" technology adoption are driving unprecedented demand in the global battery market.
While this increase in demand is stimulating new research and development in battery technology, lead acid batteries are still the de facto choice for most industrial applications, including forklifts.
While lead acid options have lower energy density than some of the newer types of batteries, they are able to maintain a consistent voltage as they discharge, they can operate over a wide range of temperatures and they can be reliably charged/ discharged over thousands of cycles.
The increase in global battery demand has also bought about steep price increases over the last several years. Higher battery costs mean that increasing your forklift battery life can have a significant impact on your bottom line.
Care and maintenance of batteries has a direct effect on their useful life, so a small investment in high quality battery handling equipment can generate meaningful savings in the long term.
Raymond West offers a full line of battery handling equipment from top manufacturers:
Battery Chargers
We offer both used and new industrial battery chargers for all types of applications from single shift, light duty warehouses to around the clock, heavy use operations. Ask about our battery and charger rental and lease programs.
Battery Stands
Save space and protect your battery investment with battery stands and charger stands. We offer a full range of options and can customize solutions for your specific needs.
Battery Crane
Our gantry crane options are ideal for vertical battery extraction applications. We offer a variety of beam heights, spans and capacities.
Battery Hoist
We offer a variety of battery hoist options based on battery sizes, frequency of use and warehouse configuration.
Battery Beam
We offer battery lifting beams featuring non-conductive construction and adjustable hook positions. Beams offer a convenient and efficient way to handle heavy industrial forklift batteries.
Battery Wash Equipment
Battery wash stations reduce terminal and cable corrosion, extend the life of batteries, reduce forklift electrical problems, and aid in compliance with environmental requirements.
Battery Room
Battery rooms should be equipped with proper ventilation, appropriate flooring, wash stations, safety equipment and all necessary battery handling equipment. We can help design your facility and source all battery handling equipment for your operation.
Battery Carts & Carriages
Forklift battery transfer carriages enable operators to safely replace and remove forklift batteries that are configured for side-extraction. We offer fully powered units for higher-frequency applications manual control options for lower volume operations.
Battery Extractors
Forklift battery extractors are essential equipment for any material handling operation that requires frequent battery change-outs.
Battery Watering Systems
We offer full battery watering systems as well as components, from deionizers and tanks to watering guns and valves.
Forklift Batteries in Ontario, California
If you'd like to speak with a Raymond representative about lift truck batteries or power systems, please get in touch with Raymond West, an Ontario forklift dealer serving San Bernardino County & the Pomona Valley, including Chino, Corona, Fontana, Montclair, Norco, Ontario, Pomona, Rancho Cucamonga, San Bernardino and Upland.
Ontario, CA
4602 E Brickell St
Ontario, CA 91761
(909) 930-9399
7:00 AM - 5:00 PM
Monday - Friday