Forklift Repair | Ontario, CA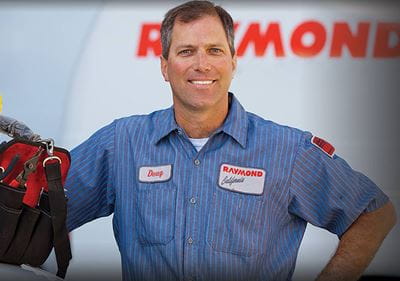 Raymond West is an Ontario, CA forklift repair service for all makes and models of lift trucks.

We are backed by one of the largest parts departments in California.

Call us today at (909) 930-9399
For busy warehouses and distribution centers, having even a single forklift out of service can result in substantial losses in productivity. Disabled trucks may also rack up hidden costs. To illustrate, you may have an idle or underutilized driver during downtime shifts, you may suffer loss of reputation as a result of late shipments, and you may have to pay overtime to make up for lost time once your lift truck is back in service.
In spite of regular service, even the most well kept lift truck fleets are prone to periodic mechanical failures, it's simply the nature of the industry.
A full day, or even more than four hours is too much time to be idle in situations where you need a forklift back in service right away. Raymond West has a site arrival time of just over two hours and we provide the speediest average response time of any vendor in many areas of Southern California. We have branches throughout the Western U.S. and can dispatch technicians at a moment's notice.
Our team of factory trained, certified specialists are each equipped with service vans that have all the components and tools they need to get repair jobs done quickly during their first onsite visit. Raymond's experts can usually arrive on the job site, pinpoint an issue and repair a vehicle within just a couple of hours of your first call, versus twenty-four hours or more for most other service operations.
With over 100,000 part numbers available for all manufacturers and models of lift trucks, plus over 4,000 parts in inventory, Raymond West can source all the components you need when you need them. We furnish components for most major manufacturers and have one of the largest parts departments in the state.
Scheduled Forklift Service
Routine maintenance of your forklifts is vital when you want to optimize your truck availability and productivity. With our programmed maintenance agreement, we examine and maintain your trucks at predetermined intervals and help you avoid mechanical breakdowns before they occur. Raymond's crew of highly skilled specialists will perform all the requisite inspections and service you need for your trucks. For your convenience, you can keep your trucks working when you need them and set an appointment for service during off-peak times based on your own schedule.
Comprehensive Forklift Maintenance
Our total lift truck service agreement incorporates all scheduled service, labor and parts at one predetermined monthly charge. That means that beyond preemptive predefined service, all parts and labor for breakdowns are covered as well. An all inclusive contract is typically less than having trained maintenance workers, and the set recurring expense makes budgeting easy and predictable. For multi-shift operations, high throughput distribution centers and highly utilized truck fleets, comprehensive plans are often a wise budgetary decision.
Forklift Repair Near Me – Ontario
Phone Raymond West today to get more information on lift truck maintenance or service contracts, or to schedule forklift repair service. You can speak with an Ontario representative by calling 909-930-9399.
Raymond West Ontario
4602 E Brickell St. Ontario, California 91761 909-930-9399