Dock Bumpers | Ontario, CA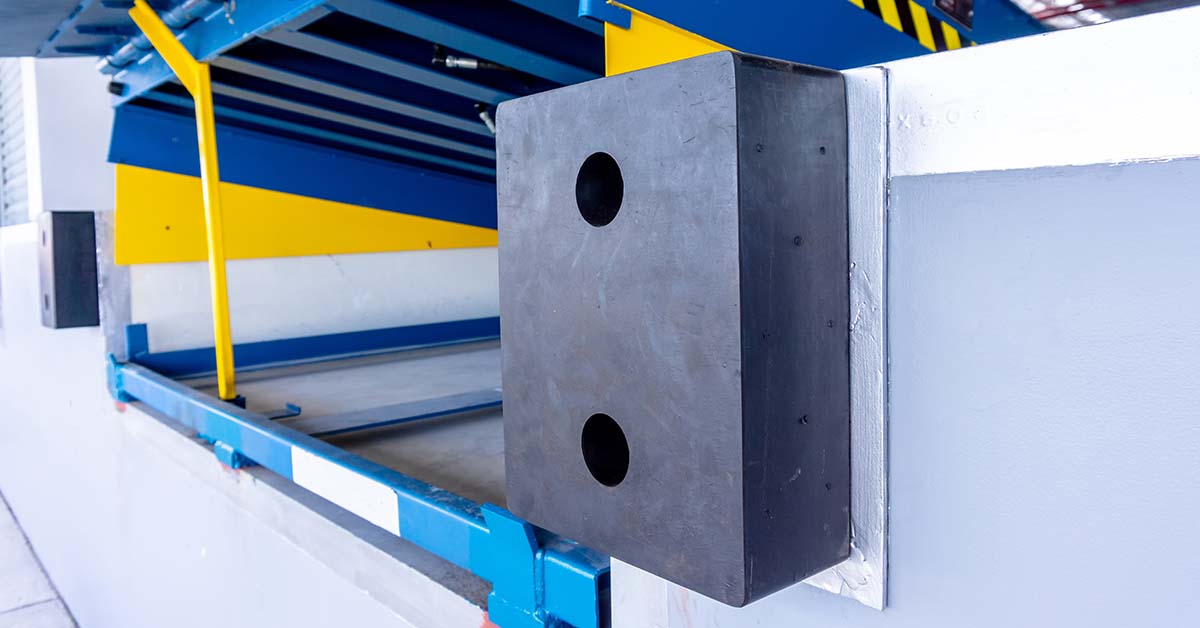 Raymond West supplies new and replacement dock bumpers.

We are among the largest suppliers of loading dock equipment in the state.

Call us today at (909) 930-9399
Loading dock bumpers can help you safeguard your warehouse, your dock equipment and trailers. Every product that passes through your warehouse or production facility flows through the dock, so it is essential to protect it and keep every bay in good condition.
Types of Dock Bumpers
Generally, dock bumpers are positioned so that a truck or trailer runs into the bumper before hitting your structure. This protects your facility, your dock levelers and the truck or trailer that makes use of your dock.
There are many varieties of dock bumpers, and picking a suitable dock bumper can be critical, depending on the volume of your loading dock. Installing overly-lightweight dock bumpers can sometimes result in premature failure, while installing dock bumpers that are excessively heavy duty may be unproductive and might in fact cause troubles when securing trailers and trucks.
The kind of dock bumpers you choose will be dictated by the approach, average trailer or vehicle height, daily volume and many additional factors. For docks where trailers are expected to tilt slightly or swing during loading operations, bumpers may be installed vertically or horizontally.
Molded Bumpers (Light Duty): Dock bumpers formed from molded rubber can provide defense for light duty loading docks. Additionally, molded bumpers can be installed on the interior of a building to protect doorways, walls and other structural elements from forklifts and other equipment.
Molded rubber is the least durable option of various dock bumper styles, and is more prone to chipping or gouging. If your dock doesn't receive a lot of truck traffic, they may be a practical option for your business.
Laminated Bumpers (Medium Duty): Laminated bumpers have more substantial pads than molded bumpers and afford increased shock absorption. They are constructed from cut-to-size strips of used truck tires that are sandwiched between steel brackets.
They have a medium level of wear resistance and are adaptable when it comes to thickness, length, and height. They are frequently applied in operations configured with pit levelers or edge-of-dock levelers, since they offer prolonged defense for high volume docks.
Steel Faced Bumpers (Heavy Duty): Steel faced bumpers are configured with a movable section of steel that covers a common laminate bumper, preventing heavy abrasion of the layered padding. The durable metal enables trailers to rub against the bumpers without deteriorating the rubber. Steel bumpers offer outstanding durability, and usually last up to four times longer than exposed laminate bumpers.
When Should Dock Bumpers Be Replaced?
Despite the fact that dock bumpers are meant to tolerate daily abuse, they do wear down after prolonged use and need to be replaced from time to time. There are some telltale signs that your dock bumpers should be replaced.
When you see wear of more than 50%, it's time for replacement. The impact absorption ability of worn down pads is simply not enough defend your building. Pads that are excessively worn will ultimately expose the metal plates that hold them in place, and this may cause unnecessary damage to both brackets and trailers.
In addition to general wear and tear, you should inspect bumpers for other damage like splitting laminate layers, cracking, bent or corroding brackets and other obvious deficiencies. It's a good idea to schedule bumper inspections, just as you would systematically inspect your levelers and other dock equipment.
Truck Dock Bumpers Near Me
For dock bumper questions, inspection or replacement, talk to a dock equipment expert at Raymond West today.
Raymond West's Ontario, California facility serves parts of Los Angeles County and San Bernardino County, including Ontario, Fontana, Rancho Cucamonga, Upland, La Verne, San Dimas, Covina, West Covina, Pomona, Diamond Bar, Rowland Heights, Chino, Norco, Eastvale, Corona, Jurupa Valley, San Bernardino, Rialto and all surrounding areas.
Raymond West | Ontario California Material Handling Equipment Supplier
4602 E Brickell St
Ontario, CA 91761
(909) 930-9399