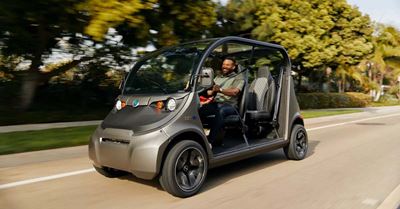 Raymond West offers a full range of utility vehicles such as GEM Cars for all industries and uses throughout the West.

We are backed by one of the largest service and parts operations in the state.

Call us today at (800) 675-2500.
Electric vehicles are becoming more and more well-liked for businesses because of their eco-friendly and financial benefits. Businesses are searching for ways to lower their CO2 emissions and increase their profits, and electric vehicles are a fantastic solution to accomplish both. Polaris GEM electric vehicles are reliable and efficient, and provide many advantages to businesses looking to move to electric vehicles.
GEM Utility Vehicles Lower Costs
One of the biggest advantages of employing GEM electric vehicles lies in their low cost of ownership. These vehicles can be powered by a number of sorts of battery, from standard lead-acid types to bleeding edge lithium-ion options, which provide an efficient and cost-effective method for powering your EVs.
The batteries are also reliable, and lithium-ion versions can last for over 3,000 charges. Furthermore, these vehicles demand far less regular maintenance than internal combustion vehicles, resulting in cutting costs on labor and servicing costs.
Electric Vehicles Reduce Environmental Impact
An additional benefit of GEM electric vehicles is their environmental operations. GEM vehicles don't create emissions, which helps to lower air pollution and preserve the environment. This is particularly important for businesses that run in areas with pollution issues. Moreover, GEM vehicles are extremely quiet, so they won't bother neighbors or upset the natural environment.
GEM Industrial Utility Vehicles Are Versatile
Electric vehicles by GEM are additionally incredibly versatile, and can be employed for a number of applications. From transporting goods to acting as transportation for staff and clients, GEM electric vehicles can handle the job. They are available in a variety of designs and sizes, so you can find the exact model for your requirements.
GEM Cars Are Cost Effective
Lastly, EVs by GEM offer companies an excellent return on investment. With their inexpensive ownership costs, businesses will reduce expenses over time. Moreover, GEM vehicles may qualify for a number of tax credits and incentives, depending on your location, which can further lessen the cost of ownership. This makes GEM vehicles a great selection for businesses looking to make the transition to electric power.
Talk To An Electric Utility Vehicle Expert About GEM Cars
To learn more about EVs by GEM, reach out to a professional in electric vehicles at Raymond West right away. EVs by GEM provided by Polaris provide organizations with a number of benefits. They are cost-effective, environmentally friendly, and have an excellent return on investment. If you're trying to find a dependable and effective way to power your company, GEM electric vehicles are the ideal choice.
Raymond West's Ontario, California facility serves parts of Los Angeles County and San Bernardino County, including Ontario, Fontana, Rancho Cucamonga, Upland, La Verne, San Dimas, Covina, West Covina, Pomona, Diamond Bar, Rowland Heights, Chino, Norco, Eastvale, Corona, Jurupa Valley, San Bernardino, Rialto and all surrounding areas.
Raymond West | Ontario California Material Handling Equipment Supplier
4602 E Brickell St
Ontario, CA 91761
(909) 930-9399